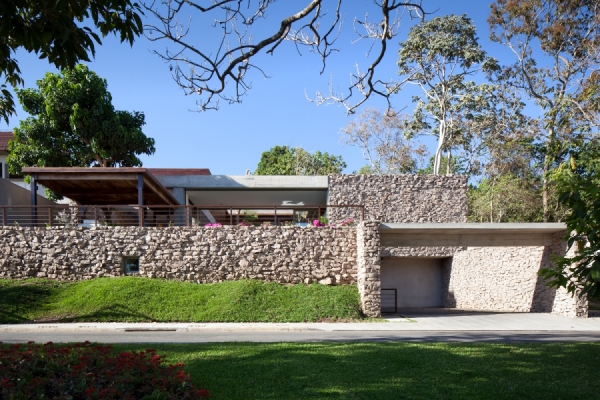 Have you ever watched the Flintstones and dreamed about living in a home that was made of stone just like Fred and Wilma's? Well it's time to drum up your childhood ambitions and start getting inspired with today's featured home! This contemporary stone house was created by the Cincos Patas al Gato Company and currently resides in San Salvador, El Salvador.
Compared to the obvious brick foundation, the most central part of this contemporary stone house is the garden. The garden is the center of attention in that it helps to bring together the other rooms of the house by providing open access to some nature regardless of which room you're in. You will notice that this stone house gives the very best of both worlds with contemporary and rural elements that come together to create a unique experience. Feel like you're in heaven with the deep-seated tub, like you're in the future with the kitchen and outside dining room décor, and that you are having the ultimate nature experience minus the bugs thanks to the window work that serves to allow you to have some peace.
A contemporary stone house like this is a dream come true. Every homeowner deserves to feel like they are waking up to an oasis every single day!