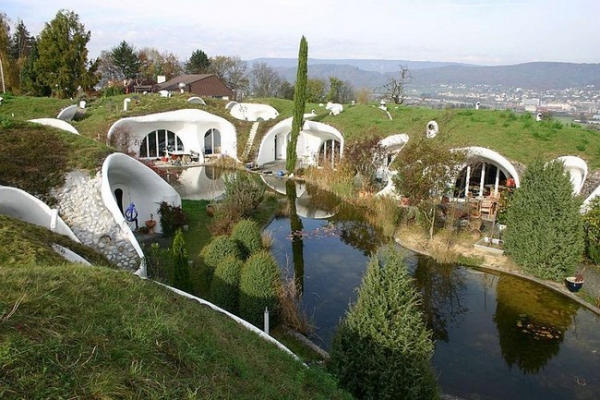 Nestled in the natural folds and movements of the land, the Earth Estate is a remarkable project that sensitively and subtly carves out human habitat into green and lush environs. Brainchild of Vetsch Architektur (website in German), these alternative houses are located in Dietikon, Switzerland on a 4000 square meters site. The design embeds the entire housing project- residential units as well as communal spaces and facilities- into the land below ground level.
The scheme accommodates nine separate earth covered houses that extend the organic vocabulary of the site into the design and its details. These alternative houses – which vary from three to seven bedrooms in capacity and 60 to 200 square meters in area-, are laid out around a calm, green communal space centered in an artificial lake. The main access is integrated into the landscape affording greater privacy; it is complemented by a secondary access provided via the subterranean parking lot.
Each of the alternative houses is arranged so as to orient the living areas towards the southern face with the bedrooms located along the north. Bathrooms and stairs to the basement are placed in the center of the house and are adequately lit by skylights. Constructed in sprayed concrete with recycled glass insulation, the sinuous open planned spaces are bathed in white and complement the design by freely and abundantly sharing any natural light and views.
A compliment to nature and its designer, the Earth Estate is striking, smart and sustainable- definitely a winning combination!