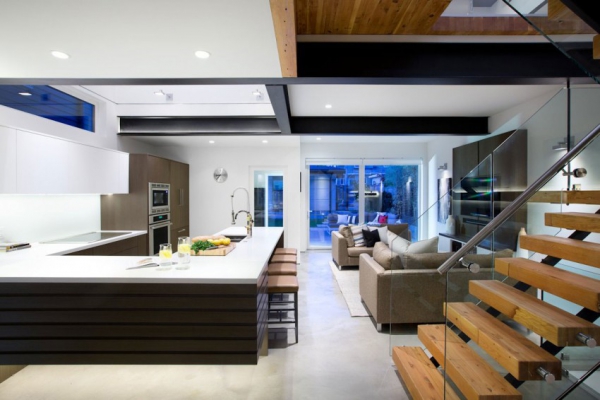 Located in North Vancouver, Canada this stylish and modern house design is the ideal place to live a modern life. From the outside to the interior this home has been well planned. Named Midori Uchi, the project was completed as a collaboration between Naikoon Contracting and Kerschbaumer Design who both had vision to create this modern house design that features many wonderful ideas.
Here modern house design is mixed with natural materials such as timber and a minimalistic approach to furnishings. Glass, metal and different tones of wonderful wood can all be seen inside the house, which is light and airy. A large, open plan kitchen is found on the ground floor, with a living area that has access to the garden. A modern glass and wooden staircase connects all 3 levels of the house and makes a wonderful architectural impression.
Everywhere you look in this house you will see something beautiful, from the free standing bath tub that is situated in a private section of the master bedroom to the ornate sliding wooden door that at first glance appears to be a piece of art, but then shows it's true use. The mixture of white walls, comfortable furniture pieces and materials used in the structure make this modern house design extra special.