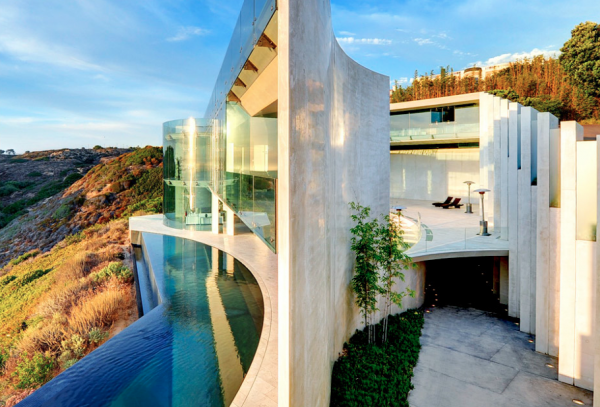 This remarkable home, known as the Razor Residence to those in the La Jolla community in San Diego, is one of those dream estates that exudes luxury, beauty, and contemporary sophistication. The amazing architecture that encompasses this 11,000 sq. ft. home was commissioned over 10 years ago. Designed by architect Wallace Cunningham, the overall construction costs of this architectural masterpiece cost over $34 million! This is also allegedly the most photographed home, which, let's be honest, we can kind of see why.
Looking over the Pacific Ocean, this glass and concrete estate appears to be a part of the cliff that it is perched on. With such amazing architecture, just about every corner of the home offers impeccable views of the water and the surrounding beach area. With glass comprising the walls, ceilings, and floors, it gives the appearance and feel of being a part of its surroundings; the water, the air, and the earth.
The interior design of the home is very simple, as it should be. For a home that provides endless views of the beauty surrounding it, you don't require much else inside. One can imagine that this is a very tranquil home, one that you can just sit back in for hours and take it all in.