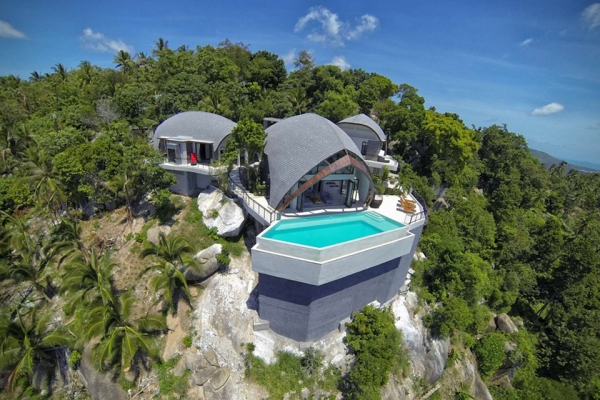 You may have been to a vacation resort in the mountains in the past, but we guarantee that you didn't experience the mountains quite like this! How about that amazing view of the vast ocean? This stunning villa certainly tops all of the mountain escapes you could possibly imagine. Located in Koh Samui, Thailand, this tropical resort blends contemporary style with naturally lush surroundings.
Including four spacious bedrooms, a breathtaking living room, and a luxurious bathroom to complete the experience, this stunning villa is worth every penny. Neo Concept Design & Construction, the modern architecture firm responsible for this revolutionary getaway, blew us away with the unique roofing design that help shields the sun from bearing down on its residents. The color scheme throughout the villa is kept neutral but features some rich colors such as the deep purple pillows in one of the bedrooms. With a great view of this part of Thailand present in every room, we can understand why a lot of color was not needed, as the landscapes just outside the doors provides all the color and life its residents could ever need! Last but not least, the living room is particularly special, as it leads directly to the infinity pool waiting just outside its threshold.
To truly enjoy a stunning villa getaway like this one, staying no less than a week or two would do you some good!