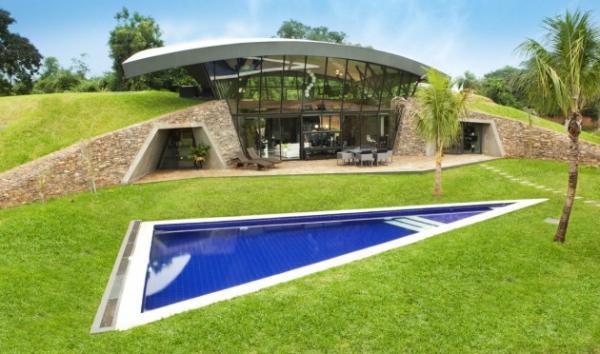 We have seen this type of home project done a few times before, and we are always so very impressed with the outcome. These two homes, designed by BAUEN in Luque, Paraguay, are known as the "Culata Jovai" or the "House of Confronted Rooms". They are both projects that sought out to create a home that suited the topography, vegetation, and tropical climate that surrounds them. The homes turned out to not only be a success in their goal, but they are sustainable homes and are absolutely stunning in their aesthetic.
One really cool aspect of how these homes are sustainable in the energy they use is the design of the roof. The way the roofs lie on top of the houses flow perfectly with the ground beneath them, reducing the amount of thermal inertia created, thus lowering the energy that is consumed within the home.
It is truly awesome that they not only built the homes to blend into the topography surrounding them, but they actually utilized the topography. You will see that in one of the homes a room is actually accessible underneath a large hill; they built underneath it! This is truly innovative in the world of design, and it is just so cool in its appearance.
Photos: Marcelo Jiménez and Monica Matiauda