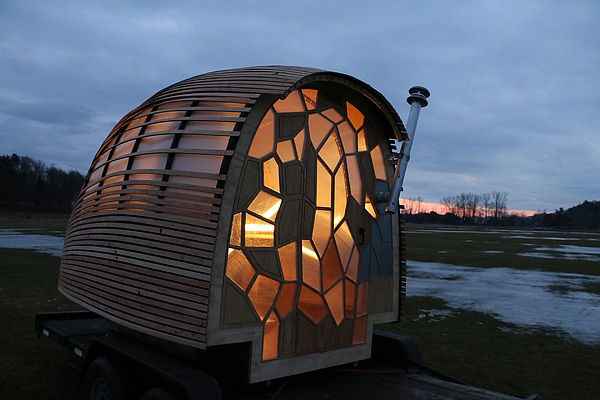 The words "Trailer home" conjure images of dilapidated caravans all stood in a row, but this unique trailer home which was designed a built by college students could change your perception and make you think twice about mobile homes. Students studying renewable energy and ecological design at Green Mountain College in America created this stunning and unique 96 square foot trailer home as part of their coursework.
The 16 students had to build a tiny home that could be towed easily and was able to provide it's own water and electricity supply. OTIS as the trailer home has been named has an amazing amount of features that make it possible to be used as a single person, low maintenance eco home. Inside the unique trailer you will find a composting toilet, a wood burning heater that doubles as a stove, a sitting area that is also a bed and even a desk.
The unique trailer has it's own rainwater collection unit and also a 120 watt solar panel meaning that it can be used anywhere there is vehicular access. The interior and exterior both appeal due to the materials used in construction. Timber and glass make OTIS a very comfortable and bright place to live.
Text is copyright to ©Adorable Home – interior design and decorating ideas