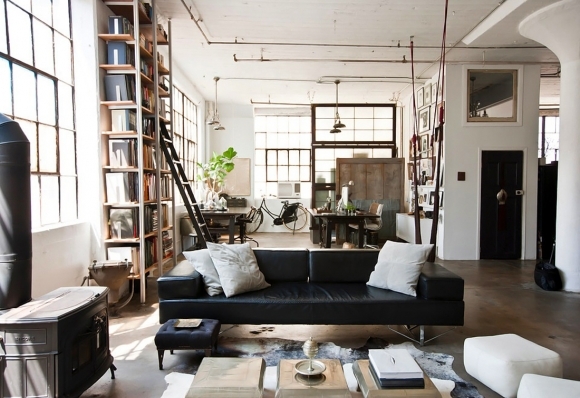 With its high ceilings, exposed rustic pipes, and cement floors, this Brooklyn loft is a modern urban dweller's dream for stylish digs, with minimal effort.
Designed by Alina Preciado of Dar Gitane, this Brooklyn loft is made to awe anyone who enters it. White walls and ceilings encompass the entire apartment, making the entire place flow together to help create the pastoral haven this home really is. Some of the original wood flooring was even left and refurbished, both for functionality and appeal, adding a little extra touch of rusticity. The factory style windows, which are left uncovered, bring an awesome industrial feel to the whole apartment, not to mention a whole lot of natural, but soft light as well.
There is an incredible amount of built in storage around the whole Brooklyn loft, especially in the kitchen; the build in shelves that go almost the whole length of the wall provide nearly all of the storage area you'll need in there. There is also a lovely little nook in the living area where you can keep your wood for the stove; how cute and convenient!
With black appliances in the kitchen and accents of black throughout this Brooklyn loft, there is just the right amount of contrast between black and white; it really makes everything pop, especially with darker colored furniture and wall decorations; the black wood burning stove is also an excellent addition, adding wonderful aesthetic to the living area, as well as figurative and literal warmth.
What is best about this apartment is how it is perfectly put together, but somehow so wonderfully flawed. It gives you the opportunity to fill it with your own quirks and eclectic style; it invites you to make it your own.