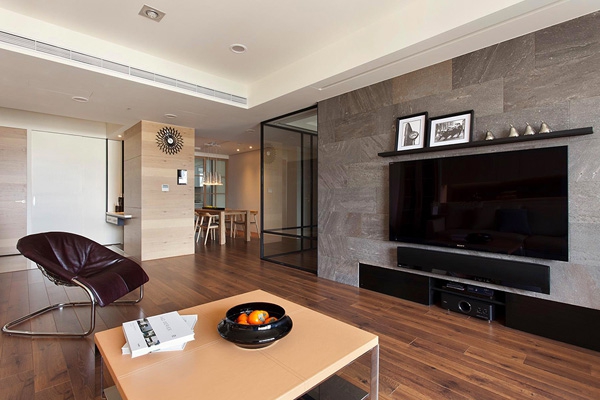 This spacious apartment has some pretty unique features that increase the style value and also mean you get more for your money. Surrounded by beautiful interior design and many natural materials you will find a complete glass wall – the special feature being that this wall can be moved easily along rails set in the floor and ceiling to be configured to suit your changing needs.
Neutral colors and natural materials make this spacious apartment look and feel calm and warm. Wooden floors add color without being overbearing and large windows let in plenty of light. The apartment is furnished quite simply but yet with comfortable pieces, accessories provide extra interest and inject extra color to the rooms. We love the main feature wall in the living area that is covered in granite tiles and is where you can find the entertainment center located.
The moveable glass wall can turn part of the large living space into a sound proofed office, play area for the children or chill out zone. You can work in a quiet space or relax in style in this spacious apartment that also has a multitude of storage facilities to keep all of your possessions safe and tidy. This spacious apartment is designed to make your life less cluttered.