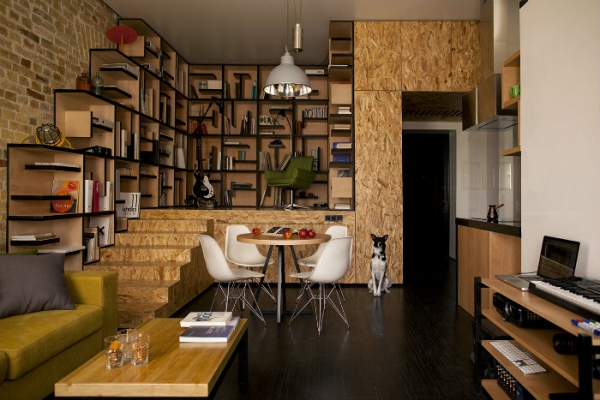 We love the smart design of this home. The 64m2 apartment in Kiev is the work of architect Alex Bykov, who created the attractive apartment with a "Constant Motion" concept for a young and creative couple. The kitchen is the central part of this apartment. The bedroom, the library, the lounge and the bathroom are located encircling this point, making the kitchen the heart of the home. Each section of the apartment flows nicely into the next with some stunning geometric shapes incorporated into the design.
Natural and modern materials are mixed together giving a contemporary feel to the apartment, due to low natural light there have been some smart design enhancements made to give a cozy feel to the whole space. The fully fitted kitchen has a range of units and modern appliances; there is a small breakfast bar and dining area also. The piece de resistance of this apartment is the library, with its raised floor and geometrically shaped shelving, this was a special request by the clients and makes use of the space fantastically.
Looking around you can see smart design everywhere – from the architect designed furniture to the decorative lamps that originate from the Ukraine. Our favorite room, however, has to be the ultra modern, tiled bathroom where the slatted wooden ceiling lets in light and enhances the dark color scheme.
Тext is copyright to ©Adorable Home – interior design and decorating ideas