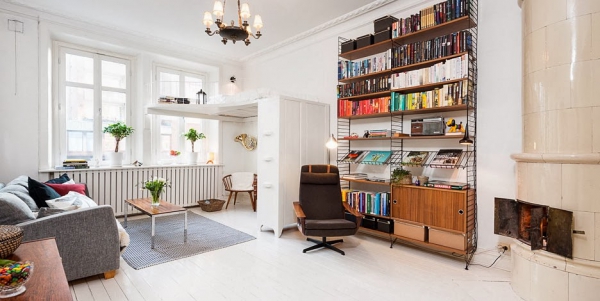 With only 51m2 of space this small home might seem too small to many people but once you go inside you realize that there are many benefits to living in a studio style apartment such as this one. Everything from the white painted wooden floors to the patterned wallpaper that graces some of the walls has been planned and thought out to maximize space. There is a great mix of original features, such as the plaster ceiling roses and molding and even a magnificent wood burning stove that heats this small home well.
One of the features we love is the raised platform in the living area, the upper level provides a guest bedroom, while underneath you can find storage space and a small office. This is both practical and beautiful by design. The modern kitchen in this small home has a vivid feature wall, where color has been injected through the decoration. The kitchen has a wide range of fitted units and also a breakfasting table.
The master bedroom of the small home is serene and calm, with lots of natural light and clever storage. A mosaic tiled bathroom finishes the studio perfectly and even has space for a bathtub. This small home is stylish and graceful despite it's size.