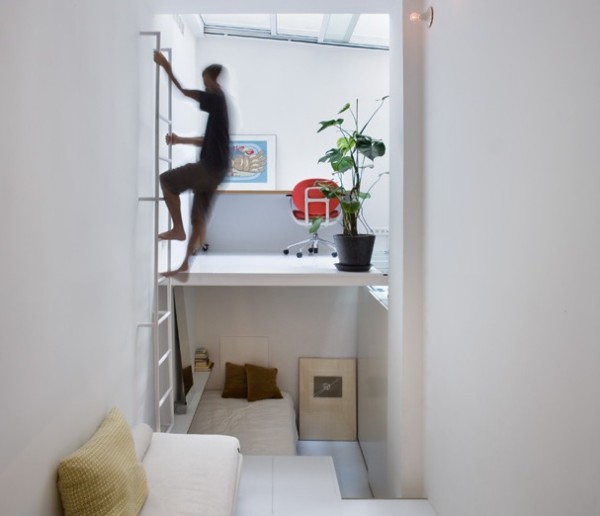 There was an old lady who lived in a shoe. And then one day, she decided to upgrade to a small apartment in Madrid. Okay, that's not exactly how the rhyme goes, but it definitely adds a nice plot twist! Today's feature has us lingering in this Spanish paradise a little longer to indulge in some more amazing interior design styles. Coming in at only 215 square feet is a home that can really wrack the brain of a person that doesn't have enough imagination. This small apartment was designed by MYCC, an architecture firm based in Madrid.
This small apartment may be lacking in size, but it makes up for it in height. Wall staircases are incorporated into the framework, which serve as a transition into the next level or room of the home. The interior design of this small apartment is kept minimal in order to continually lengthen and open up space. Subtle pops of color on each floor add the perfect touch to keep things lively.
The depth that MYCC creates within this small apartment is nothing short of a genius! If you are an individual who doesn't mind the intimacy of these close quarters then you have found your dream home!
Photography by Elena Almagro