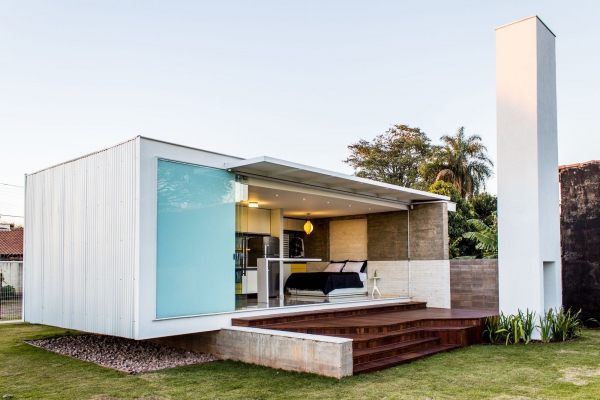 To start, this tiny metal clad home is a mere 45 square meters (or 484 square feet) in size!
Aside from the fact that it is built on a plot of land that is approximately 8 times larger than the house, this home has been designed in such a way that it is absolutely stylish and still maintains a good amount of space to actually live in.
The main (and probably most obvious) way that this metal clad home looks so spacious is the sliding glass door that almost makes up the entire back wall of the home. Now, it's an excellently roomy home and the perfect backyard lounge area.
Clearly, this is one large living space (very studio-esque) that has been split up strategically into designated areas for the kitchen, dining, living, study, and bed [room]. Still, everything flows very well, making the transition from area to area seamless and comfortable.
Photos: André Barbosa