This penthouse apartment can be found in Sant Cugat del Vallés (Barcelona, Spain) and it was designed by the interior designer Mireia Masdeu. Eclectic and quirky, fresh and inviting this flat exhibits great character. When it comes to apartment décor ideas, compiling mismatched pieces of furniture and accessories showcases a homeowner's definite sense of style.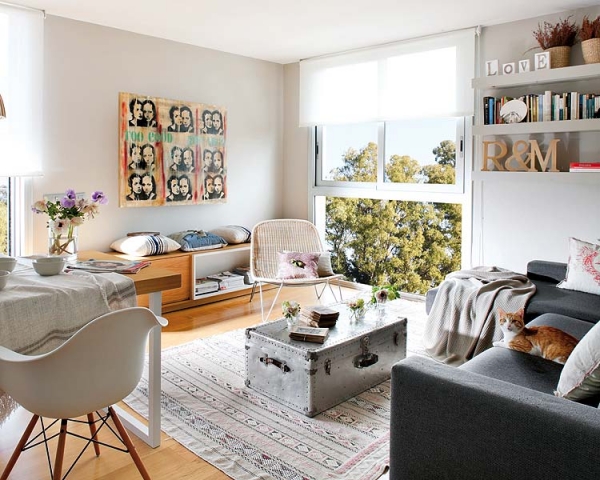 Warm, neutral walls and light wood flooring create the perfect canvas for space design. Dreary, drab furniture can be spiced up with different textures and colors in the form of pillows and throws. Even a hodge-podge compilation of an old trunk used as a coffee table set on top of a worn area rug creates an inviting, cozy feel to the living room.
With a modern vibe and a minimalist touch, the kitchen is sleek yet quaint. Stark white cabinets give the space an open feel. Creative apartment décor ideas demonstrated in the kitchen specifically are the use of a wooden table which ties in nicely with the warm wood floor. This creates harmony within the area.
SEE ALSO: Most Popular Interior Design Styles Defined
While whites and neutrals continue to be the primary color scheme throughout the flat, small, very personalized touches of color are interspersed. Accessories in the form of books, candles, and vases of baby's breath give the apartment design life and interest. Accessorizing a space allows the resident to showcase their own sense of style and personality, while creating focal points of interest as well.
The design style of the apartment is carried out onto the patio as well. Beautiful views cradle a space that suggests relaxation and rejuvenation. Comfortable furniture in neutral tones is once again set against a warm wood floor which continues to create harmony and unity throughout the apartment design.