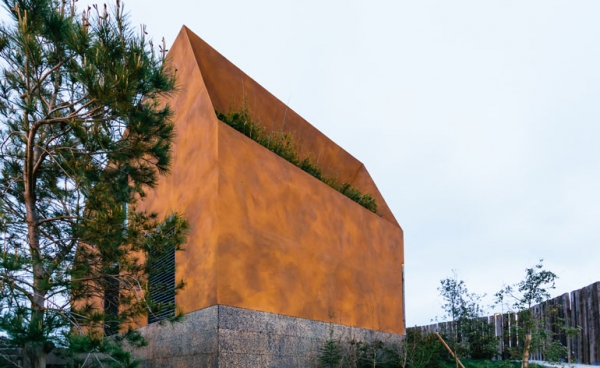 Take a leap into the future and take a peek at what houses all over could look like really soon! We are convinced that the striking architecture in this Portuguese home has never been seen or duplicated anywhere else! This beautiful dwelling, named Casa Varatojo after the mountain it shares space with, was designed by Atelier Data, an architect firm located in Lisbon.
The striking architecture of this home starts off with the shape of a polygon that sets the tone for the distinctive layout it possesses inside. Casa Varatojo is designed to look out of this world with the rare mixture of materials used. It was also designed to overlook the town of Torres Vedras, where it resides, in a way that is not interrupted in any way. Another interesting aspect to note about the striking architecture is that its main theme serves to fuse in nature throughout every room. The bathroom is one of our favorites as it gives a wonderful display of a bamboo garden while relaxing in the tub. More spa-like qualities, like the never-ending swimming pool, are found on the ground floor along with a mini-movie theater.
Casa Varatojo is truly a remarkable home! From the modern styles and incorporated natural elements, the striking architecture will definitely inspire more state-of-the-art designs in the years to come.