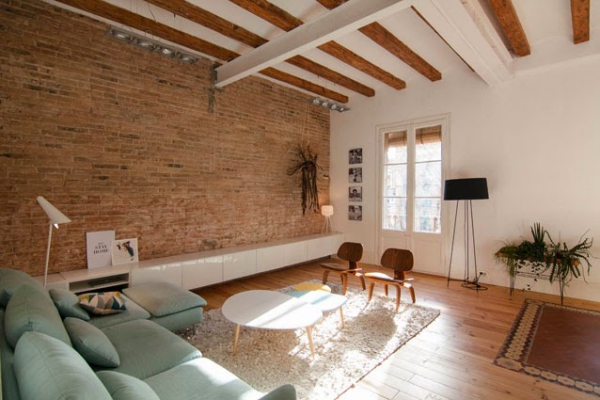 Sometimes simple is better. But we would like to think that simple can be even better with some surprises here and there as well! Today's home spotlight features a style that is ingenious in its efforts. This contemporary cozy home resides in the beautiful area of Gracia, Barcelona and was birthed by designer Neus "Snow" Casanova of The Degoma Interior & Graphic Design Company.
We are invited into this contemporary cozy home with a warm tone that is made known throughout the cream walls present in the entire house. The walls are offset by the wooden features in the bedroom areas and exposed brickwork in the living and dining room areas. Casanova plays it safe in a fun way by incorporating cool pastel colors that blend in perfectly. The lighting of this contemporary cozy home is exceptionally special in that it seems to rely mostly on natural light. The warm tones and cool pastels help to evenly reflect light throughout this home. How clever! And when natural light needs a little boost, there are old-fashioned light bulbs designed in a fashion that will constantly tempt you to turn them on.
This contemporary cozy home has a really nice blend of simplicity, raw boldness, and a modern rustic quality. You will always be the greatest host of every part and get-together that you have here!