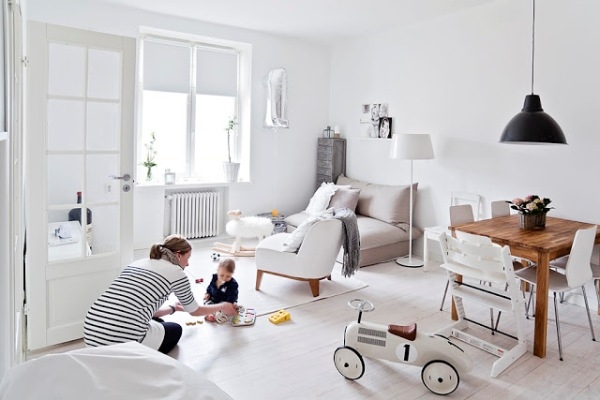 When you look around the home of Hanna, who is the blogger behind the White featherdream (website in Finnish), you not only gain a little understanding as to why her blog may be named what it is, but also a grander understanding of the saying 'less is always more'. The home is enveloped in a pure white interior that radiates sophistication and perfect simplistic design.  The white used in this home is somehow the purest we've seen, and believe us we have seen a fair number of beautiful homes that embrace the pure white interior look. Even the panels on the doors and panes on the windows are in this chaste white that looks like it hasn't been touched by anyone or anything.
The brilliance with this design is that the only other shades or colors that are seen is the wood in the kitchen countertops and table, and the soft gray furniture that pops in the corners of each room; the dark gray lighting structures are an excellent addition, it somehow rounds off the gray scale so nicely as it contrasts with the pure white interior.
Even more, the actual décor of the home is not only very minimal, but kept in the same color scale as the rest of the home, bringing the design full scale. With a simple poster or photo hung up in a couple different locations, and a black chalkboard in the kitchen (that stands out brilliantly, may we add), you really focus on the pure white interior, while being drawn every now and then to the perfectly placed splashes of additional hints of color.  This truly is one of the best examples thus far of what you can do with a pure white interior, and how little you actually need to do with it; it really works the home on its own.