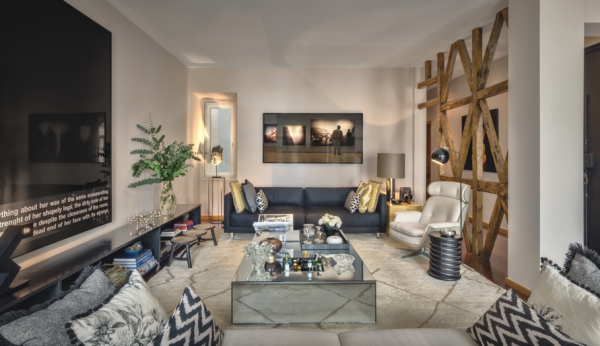 Get your passport ready! We are headed to the other side of the world for today's luxury apartment! In Lisbon, Portugal resides a home that stays true to its city's historical Pombaline style design. The Pombaline architecture style was first introduced in the 18th century by an architect named Sebastiao Jose de Carvalho e Melo. After the devastating earthquake that hit the area in 1755, Sebastiao was head of the plans to reconstruct the city which resulted in a style that went against the grain. Thanks to amazing designer Cristina Jorge de Carvalho, the Pombaline style is conserved in today's time with a modern flair. Cristina was already inspired by the apartment building's Pombaline architectural style, so there was no hesitation of where to begin. Paired with her client's requirements of what was needed, she was able to come up with an everlasting homage to Lisbon's history.
The intricately designed wood partition is reminiscent of the malleable wood design that Sebastiao came up with that helped create stable foundations through his Pombaline style. The interior design of the entire abode features soft grays, blues and neutral browns that culminate into a lovely feminine feel. The point of origin for the client's desired diverse taste lies in the living room, while the bedroom style features direct inspiration from Louis XV. We absolutely love the fact that Cristina incorporated a functional walk-in closet, which is every woman's dream!
Cristina's client is one lucky individual! What a beautiful way to pay tribute to an influential designer from another time period!