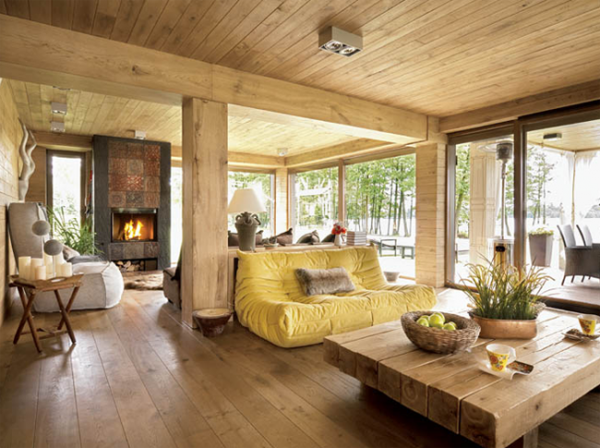 Out in the countryside near a beautiful lake in Poland is this wonderful country house that simply oozes charm and character. Everywhere you look you will see timber and the effect is especially pleasing due to the house's location. Deep, plush sofas and a stunning built in fireplace are the most striking features of the large living room. Huge soft rugs adorn the wooden floors and add extra color to this country house theme.
The open plan living space is a marvel to look at – comfortable and inviting even on the coldest day. A modern, attractive kitchen is also finished in wood and is the ideal place to plan family meals. With the emphasis being on natural materials throughout this country house you will find the bedroom and bathroom equally as pretty as the rest of the house. Large windows show you amazing views and let natural light reach every corner of every room.
Outside there is a covered decking area where you can enjoy al fresco meals with friends or spend time relaxing during the summer months. The views of Lake Berry are magnificent from every vantage point and we think you will agree that this Polish country house is very special.