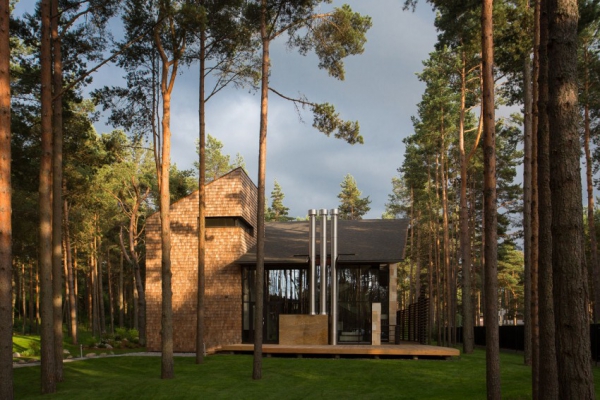 Designed by Arch-D and built in 2013 this beautiful house in Estonia is full of natural materials that give it a unique and pleasing appearance. The exterior is mainly clad in wooden shingles but also has large windows that not only let natural light in but they also help to ground the house and help it fit in with the surrounding area.
Step inside and you will be amazed at the amount of natural materials that have been used to give the house its beautiful finish. There are wooden floors, marble walls, stone built features and much more. A large living area has a sloped and warm colored ceiling, unusual light fittings hang overhead and there's a built in fireplace encased in stone that has beautiful golden hues. From here a glass staircase leads to the upper floor and mezzanine section of the house.
The natural materials found in this stunning house are so abundant it would be hard to list them all, even the bathroom has been decorated with the same care and attention to detail that many forget. Marble wall tiles are the perfect backdrop for the modern bath tub and glass fronted shower cabinet. The use of natural materials in this grand country house makes it one of a kind.