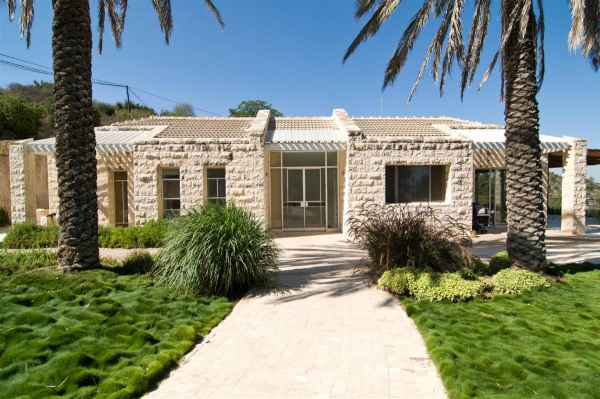 Near Jerusalem in a pine forest you will find and unusual and modern stone home that has some very intelligent features that make every day that little bit easier. Constructed almost entirely from local stone, this project by Eran Chehanowitz has been fitted with smart systems to control the lighting, heating, blinds and air conditioning. The thickness of the stone walls helps to regulate the temperature of this modern stone home and is also an attractive feature.
At the center of the house is a covered patio area that has been used for piano recitals, this is also the heart of the home and has all of the other rooms connected to it. Light colored wood has been used throughout the modern stone home keeping it airy and accenting the walls perfectly. A modern kitchen and bathrooms are located through wonderful stone arches that lead from the main living area. The furniture is stylish, comfortable and shows great taste and an eye for quality.
Outside wooden pergolas frame this modern stone home, providing some shade during the summer. Wild grasses and plants sit on Trevantin stone pavements that lead you to a fantastic spa area and ecological swimming pool with waterfalls.