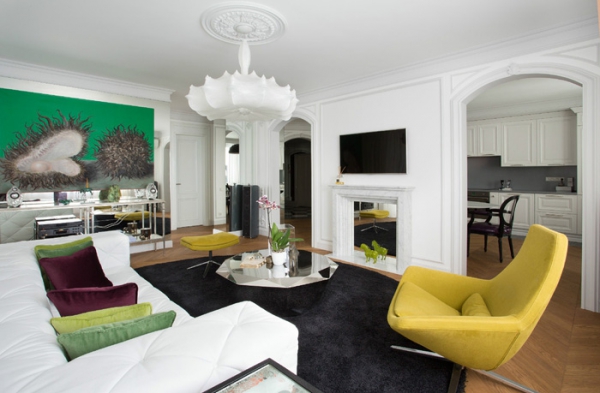 Step into modern luxury as you peruse this wonderfully eccentric and remarkably designed apartment found in Kiev. Clearly, the person who owns this home is extremely creative, and there's a good chance some of the designs on the wall you see are their own. However, while there is kind of a lot going on in this otherwise very simple and white apartment, the different elements play together surprisingly well. The overall design was worked on by studio Pfayfer & Fradina (follow on Facebook), who kept 'Alice in Wonderland' in mind whilst designing it; I think we can see that in most of the rooms.
One of the firs things we noticed immediately was the clever implementation of yellow, green, and purple into the décor of the living and dining areas. It really adds just the right punch of color to an otherwise plain space and gives it a real sense of modern luxury. As you move through the home you'll notice the designs and art on the walls, most notably what appears to be a Hentai girl on one of the walls.
While there is a lot to take in in some of the rooms, it still manages to maintain a sense of serenity in the home. We suppose that's just what modern luxury is all about or at least to an extent.