This is something we don't see everyday. The Meadowview House is a modern country house, created by Platform 5 Architects, located in Bedfordshire, England. It has a stunning exterior, with its beautiful landscaping, rectangular shape, and wooden accents.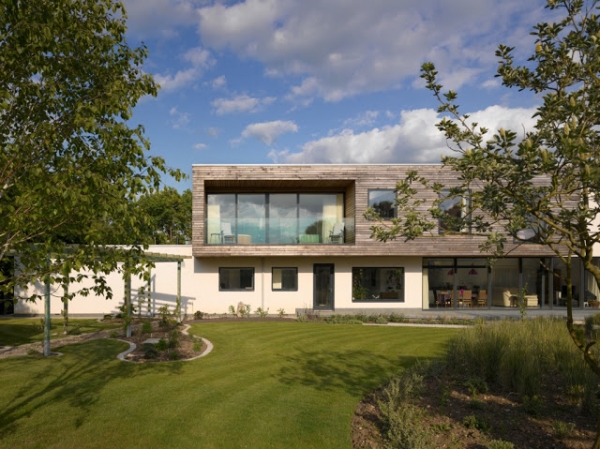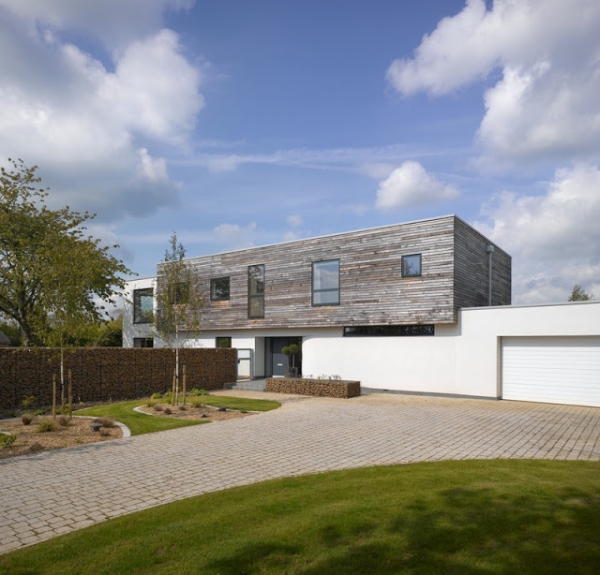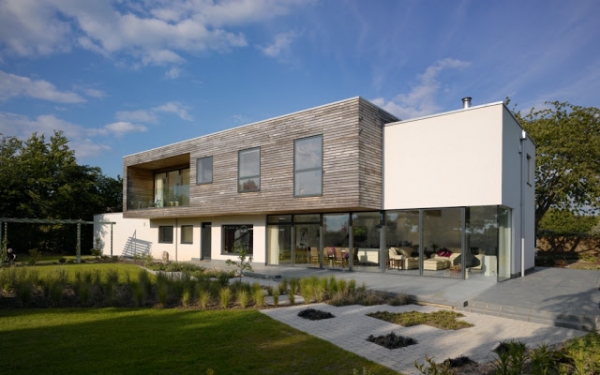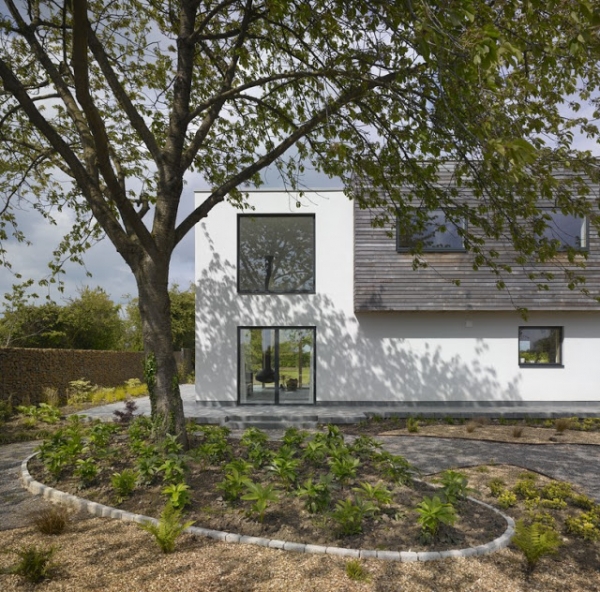 We adore the stone driveway, and the care that was put into designing the areas surrounding the home, it creates a lot of gorgeous curves and shapes. The combination between the natural wood and the white, on the exterior, is particularly lovely. It also has earth-friendly components, including rain water harvesting and mechanical ventilation with heat recovery.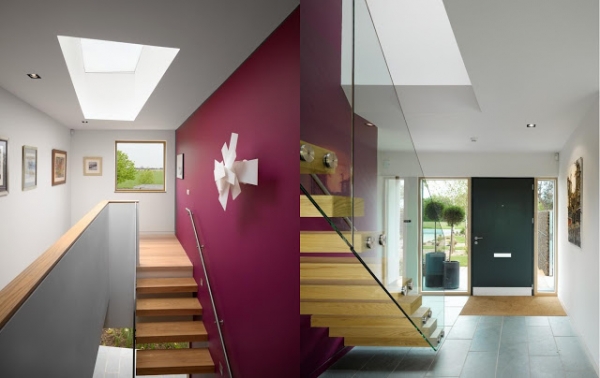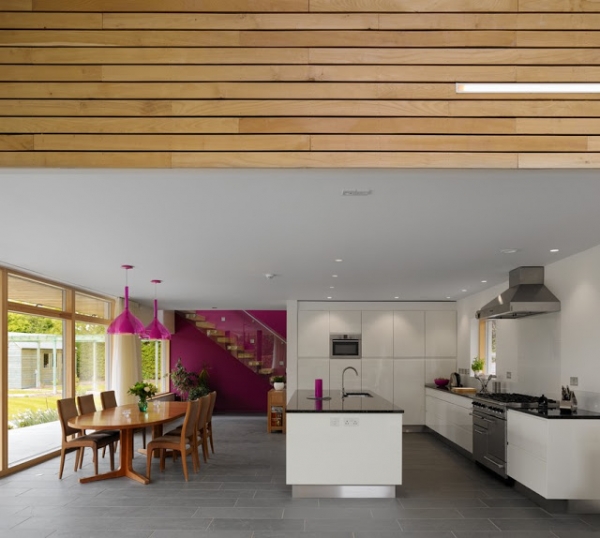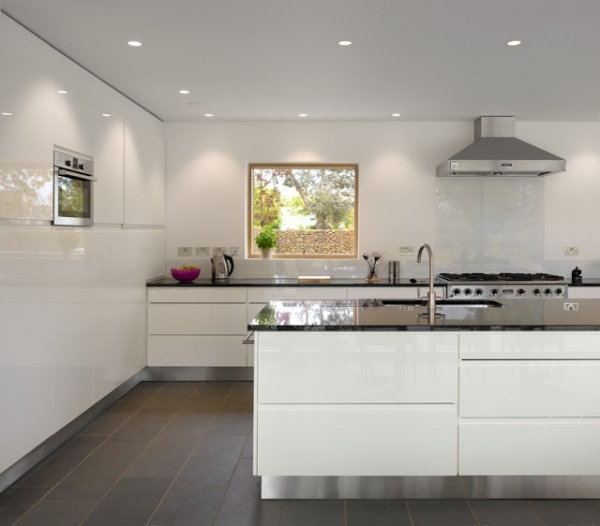 In the combined kitchen and dining room, beautiful dark gray floors, floor to ceiling windows, and modern white cabinetry, fill the space. The kitchen island is sleek with its clean lines and stainless steel accents and fixtures. A fuchsia candle sits on the island, connecting to the fuchsia accent wall in the hallway, and the fuchsia ceiling lights hanging over the dining table. The wooden dining table is wonderfully warm, and it is surrounded by complementary wooden chairs.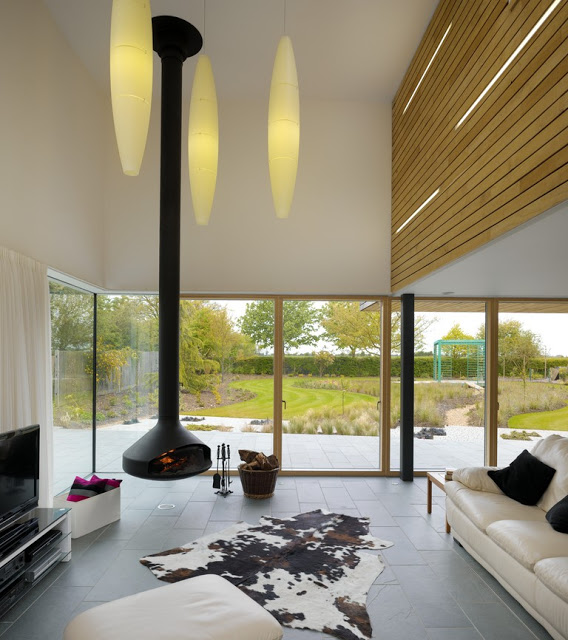 The living room in this modern country house continues with the floor to ceiling windows. A white leather sofa, with black accent pillows, is placed in front of the television. A cowhide rug anchors the design, and a white ottoman provides additional seating. The fireplace is absolutely gorgeous, it creates a wonderful amount of interest in the space. It also plays very well with the creative ceiling lights, and the wooden accents.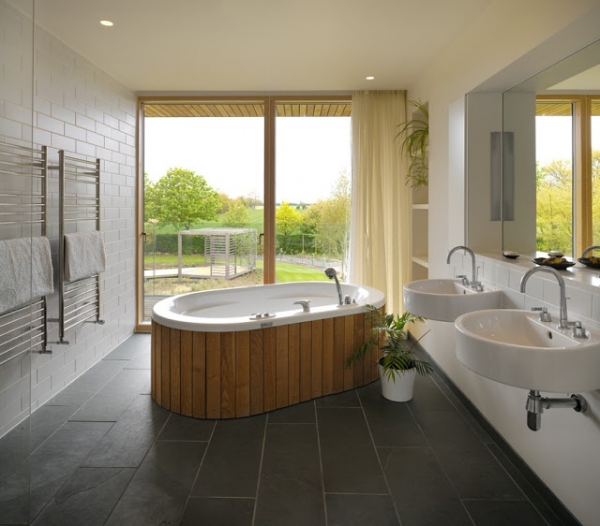 Images © Platform 5
This modern country house has a delightful bathroom. We love the continued floor to ceiling windows, the gorgeous flooring, and the large wooden bathtub. Subway tile runs along the back wall and on the area below the mirror, adding interest and complementing the floor. The addition of greenery into the design, is a wonderful touch, providing a dose of earthiness.
Beautifully done.