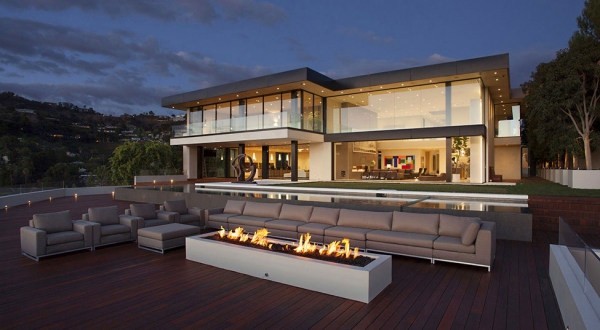 Ever wondered what it would be like to live in a place that resembled a gorgeous home in your favorite movie? Or how about living in a home that was stylish enough to pass as one big showroom? Today's feature will have you daydreaming about all the possibilities thanks to this luxury residence in Los Angeles, California. A home like this takes split-level styles to a whole new level by having different units come together to make this home one dwelling.
Mcclean Design Architects, a design firm that specializes in blending the natural environment with their client's wishes, designed this luxury residence to provide an incredible view of the busy city below. Walking inside instantly gives us the feeling of expansion and royalty. The huge marble partitions create semi-separation between the units for distinction's sake, while the intricate glass panels allow you to see the horizon from across rooms. All the contemporary sofas and couches are arranged in a way that is always facing the windows. The dining room features a cascade of lights, while the bedrooms make you feel like you own a little slice of the kingdom.
With a luxury residence such as this, you'll never have a dull moment in the house!