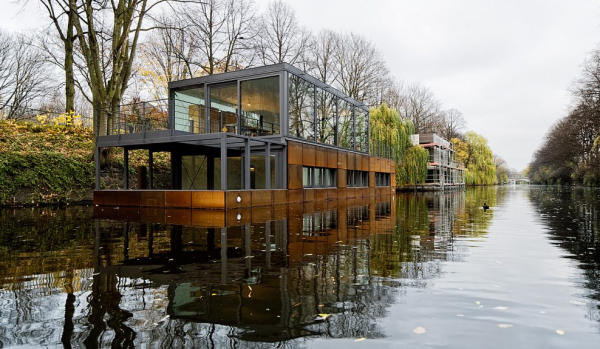 This luxurious houseboat is quite unlike anything we've ever seen before. It certainly does not look like a boat, but rather a grand and beautiful house that sits proudly on the serene water of the Eilbek canal, Germany. This modern houseboat created by architecture firm Sprenger von der Lippe is spacious and bright, with large windows allowing the sunshine into each room. The exterior is finished in quality timber panels that have a rustic appeal, whilst the interior is painted white throughout.
This beautiful houseboat sets the scene for an idyllic life and is the perfect place to entertain guests. With an almost fully glazed kitchen area above that is full of all the modern amenities you could wish for, a dining area and wonderful open decks either side. The lower part of this houseboat is where you will find most of the living accommodation. All ready and decorated to be moved into – white walls and a range of flooring types have been continued here and there are covered decks that you can use all year round.
The houseboat has a modern look that will appeal to many and it seems to sit well in the water of the canal. Now all this houseboat needs is new occupants who can add their own personality to this wonderful waterway home.