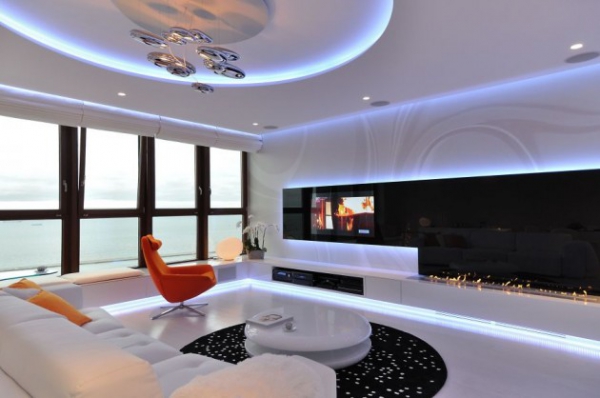 This stunning and luxurious apartment sits comfortably high above sea level in Gdynia, Poland. Interior designer Ministerstwo Spraw We Wnertzach is responsible for this highly contemporary, fluid design that makes up the home in what is known as the Sea Towers.
Beautiful panoramic views of the water aside, the design of this luxurious apartment is utterly beautiful. With a base built on pearl and whites, it has a very fresh and modern appearance. The accenting bright oranges are excellent pops of color; we haven't seen many of the warmer colors used as accents with whites and blacks, so this is very inspiring. You'll notice in other rooms the integration of deep blacks in patterns really brings an extra layer to the overall design; it's very multi-faceted.
That fireplace is especially gorgeous; tempered black glass with flames coming up from the ground creates a beautiful contrast, and a very stunning view to accompany the rest of the apartment. There's very much so a futuristic feel to this apartment, especially with the bio-thermal fireplace-meets-television. With many of the crannies and corners of the apartment being illuminated, you especially feel like you're standing in a home from the future.
Photos: Marcin Konopka