This London house uses red and white to create wonderful interest.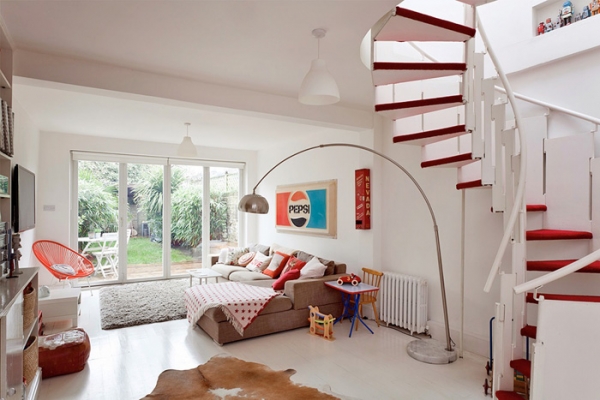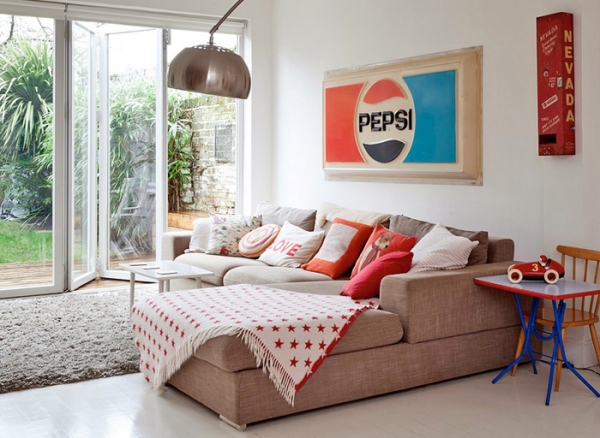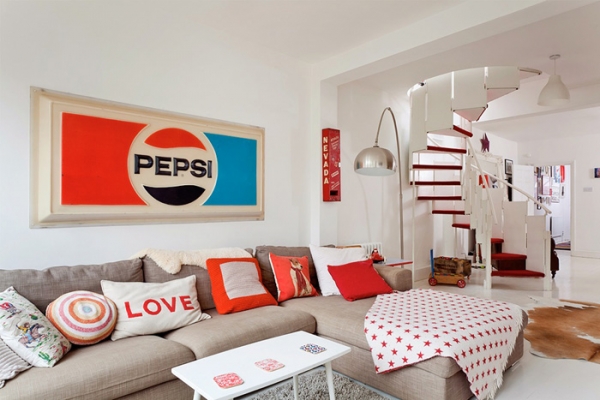 In the living room, we are greeted by a beautiful modern lamp, a gorgeous brown animal skin rug, and painted hardwoods. A comfy light brown L-shaped sofa, with multi-colored, and red and white accents, sits against the wall. A Pepsi sign is placed on the wall above the sofa, adding interest and framing the space.
SEE ALSO: Most Popular Interior Design Styles Defined
A white table with three adorable coasters, sits on a gray shag rug, completing this lovely seating area. White folding patio doors, allow natural light into the room, and floor to ceiling shelving, creates ample space for storage. We adore the spiral staircase in this London house, it is bright, fun, and playful, adding a significant amount of interest to the entire home.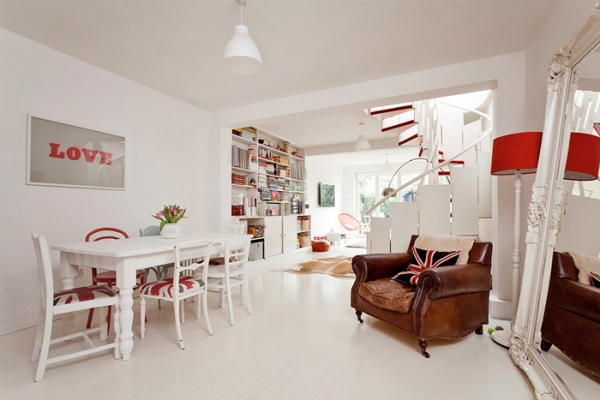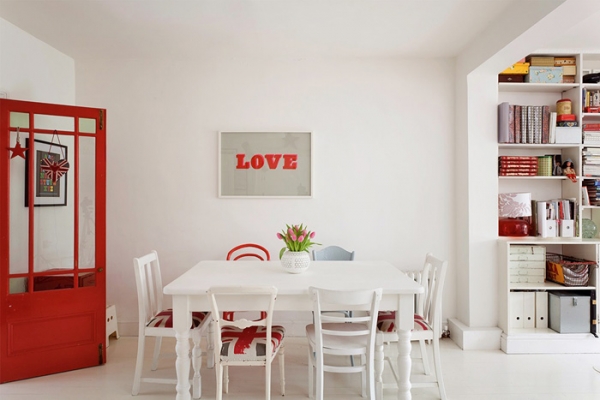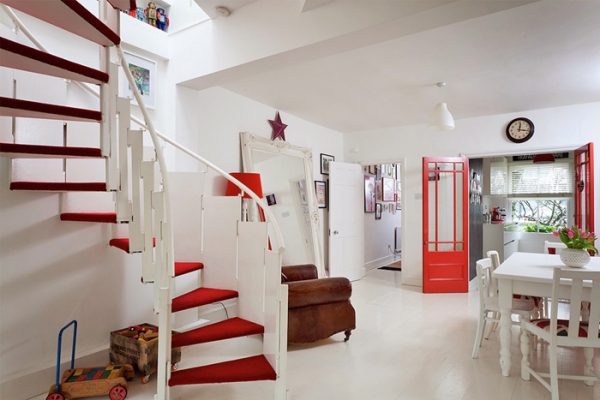 In the dining room, a gorgeous white table sits off to the side. A variety of chairs, surround the table, adding red, gray, and white, to the eating area. A white vase full of pink flowers, and a gray and red artwork, complete the space. On the other side of the wonderful dining room, a handsome brown leather chair, a superbly detailed white mirror, and a white lamp with a red shade, add interest and majestic comfort.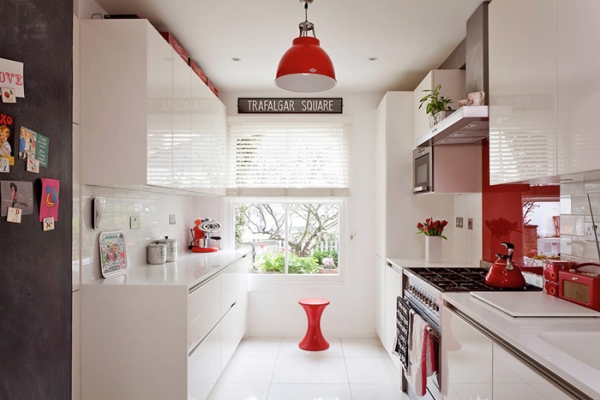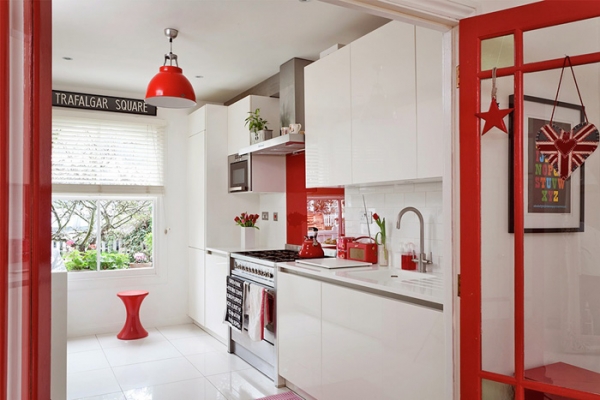 The kitchen in this London house is absolutely adorable. The bright red doors that lead into the the space are eye-popping and beautiful. It has modern white cabinets, a white tile floor, white subway tile, and stunning red accents. We love the red accent wall behind the stove, it is positively fantastic. A large window provides a lot of natural light, effectively opening and brightening the space.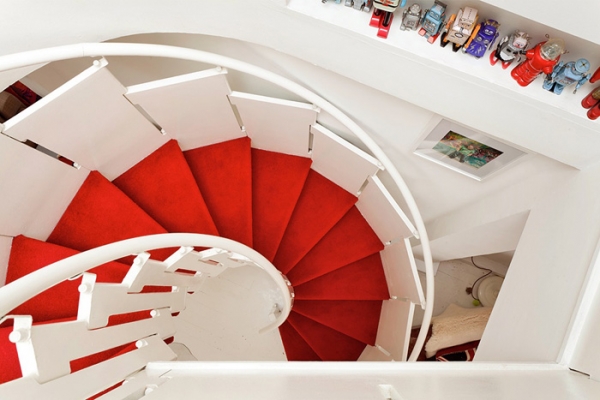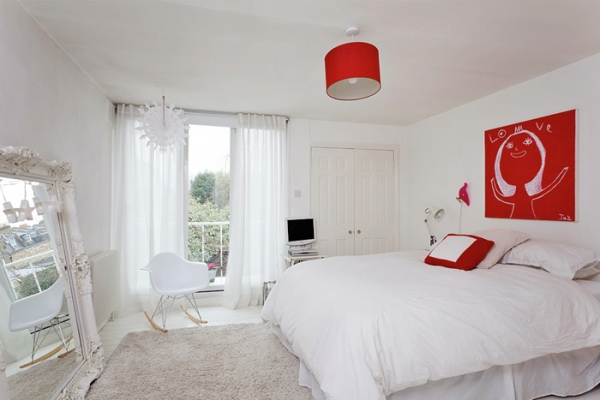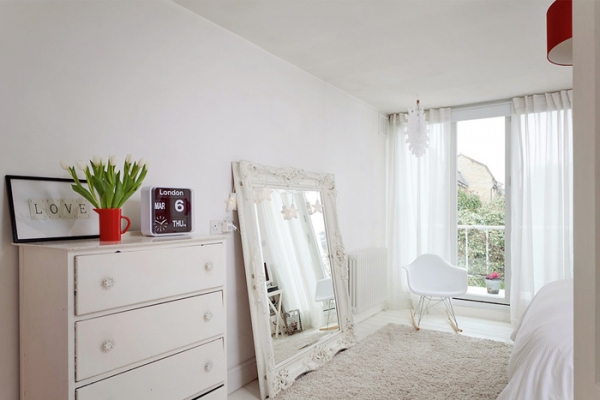 Images found here (website in Russian)
The use of red and white in this London house is simply bewitching. It creates a bold and carefree design with style and laid-back luxury.