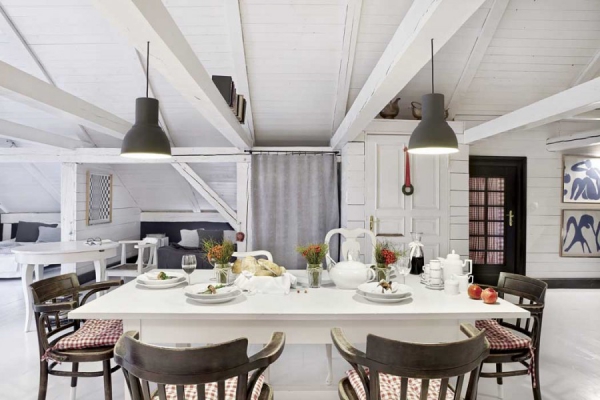 Ah, another dreamy white-and-some-black-clad home. For those who always argue their walls have to be saturated in rich hues or covered in dеcor pieces, let this modern country home persuade you otherwise. It's the perfect balance of contemporary design and country living.
While the majority of the home is painted snow white, the kitchen and rooms that appear in gray and black hues are excellent contrasts. A personal favorite is the use of yellow on the ceiling in the living area; it's such a bright and lovely pop of color but remains neutral enough to not overpower the room. The red and white checkered accents give that final touch making this really feel like a modern country home.
The simplicity of the furniture and its accentuating bedding and decor is super refreshing and also adds to the modern country home feel. Most of the beds seem to be on the floor while the dining and living areas are extremely open due to minimal furniture being used. While you'd typically think of this as unfinished or uninviting the look of this is quite the opposite. This home is very comfy and surely very inviting.
Тext is copyright to ©Adorable Home – interior design and decorating ideas