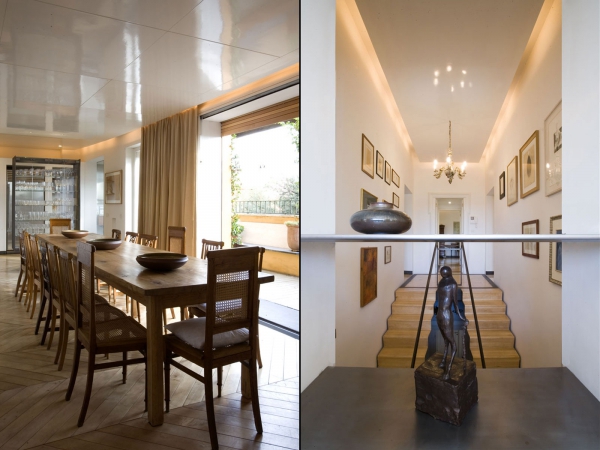 This private family home with a heart in Rome has been remodeled and modernized by MdAA to allow the occupants to live a more social life and also display their extensive art collection correctly. Formerly 2 floors separated by a rather cramped and public stair well the home has now been enhanced and joined by the addition of a new and grand staircase. The remodeling of the house was not without a few problems but has turned out very well and is now a home that the owners are proud of.
One whole floor of the house needed updating from 50's décor to a much more modern style which included making the rooms more open and accessible. Walls have been removed, hidden lighting installed and the whole of the house was given a light and airy feel with the help of a neutral color scheme. The soft furnishing, art and furniture are a reflection of the characters of the owners and all stand proudly on display. This comfortable home has warm maple floors, a modern bathroom with all of the latest technologies and fantastic views of the city.
The new stairway has become a feature in its own right and has changed the lives of the occupants greatly. The stairs themselves seem to float in mid air and are a fantastic example of modern engineering.