Made by FARO Arquitecten, the use of wood in this eco home, located in the Netherlands, is phenomenal.
The loft living space is delightful with its wooden ceilings and walls. A large window brightens the area, and the railing is made of glass and wood. The leather sofa and chair, the shag rug, and the chest, used as a coffee table, give this room a wonderful and handsome look. The vintage television adds even more character to the space, and a sleek console provides storage.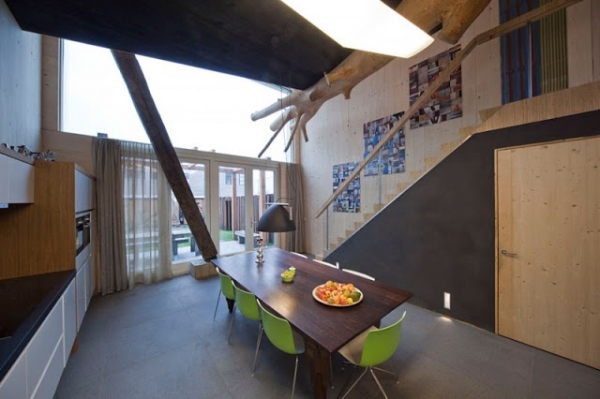 The dining area has a sleek wooden table and marvelously bright green and white modern chairs. Windows provide a significant amount of natural light, and a large wood beam runs diagonally down into the floor. There's another unique use of wood in this eco home, a huge tree trunk decorates the ceiling, bringing even more personality to this outstanding space.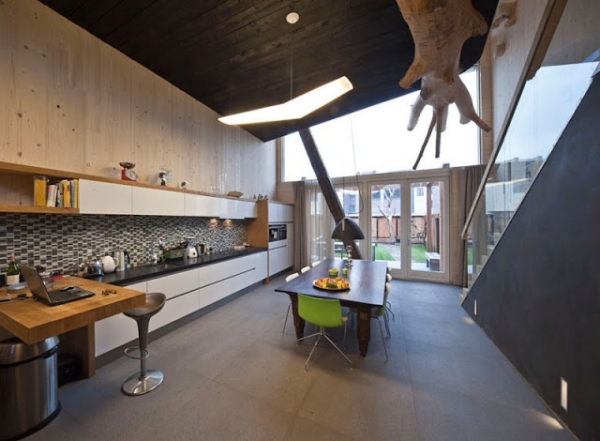 The kitchen is sublime in this eco home. It has modern white cabinets, and striking backsplash. From this view, you can see the gorgeous dark wooden ceiling, and its wonderful relationship with the light wood above the kitchen shelf: absolutely fantastic. There is a small wooden table, attached to the kitchen area, with a gray stool, providing a comfortable spot to get some work done.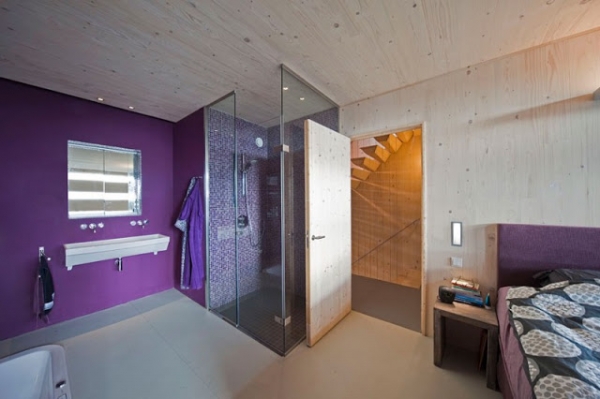 We are in love with the bold purple in the open bedroom and bathroom, it looks beautiful against the light wood. In the sleeping area, a bed with purple bedsheets and a patterned black comforter, fills the space. Next to the bed, a simple wooden table, provides the perfect spot for books and an alarm clock. The shower is fantabulous with its purple tile, lovely fixtures, and glass casing. On the bright purple wall, a square mirror and a long and slender white sink are placed: simply beautiful.