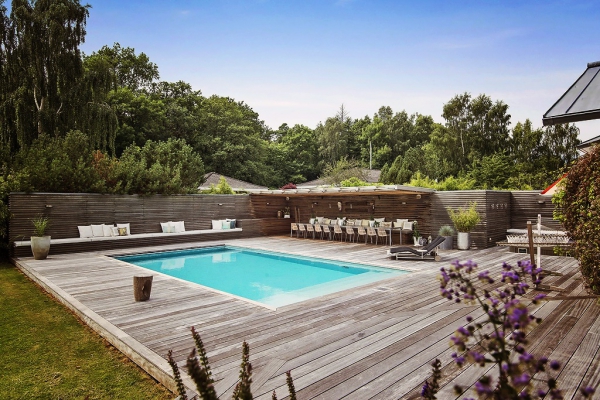 From the exterior this gorgeous house design does not allow you to see the real beauties that it holds. The 295 sqm house is modern, comfortable and ideal for family living. Outside you can take advantage of the expansive decking, large pool and space for all of your friends too. There is a table that seats at least 20 people so this gorgeous house design is great for entertaining.
Inside a large, bright kitchen is well equipped with the latest facilities and a dramatic style that is timeless – the living area has splashes of color from large artworks hanging on the walls and also is a great room to relax in. Plump sofas and tactile fabrics bring some special to this room. Large windows through the house add to the gorgeous house design.
A formal dining room is bold yet still attractive, while another living area is bathed on light from extra large windows along one wall. Some pastel colors are used in the interior design palette that are mirrored from the glory of nature outside. The master bedroom in this gorgeous house design is suave, sophisticated but still soothing, with a mix of dark and light colors, animal prints and natural materials.