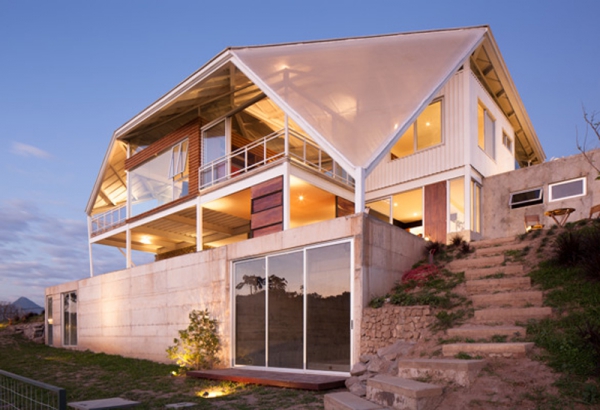 Imagine a home so advanced in its design that it almost seems too good to be true! Try to visualize a home with an amazing view of nature's wonders, yet a way to still have privacy and cool temperatures in a hot climate. You can wake up from your dreams now! Today's home features multiple decks that are brilliantly designed to wrap around the house for the ultimate entertaining experience. This home, named Casa Piscucha, was another creation of the Cincopatasalgato Architect Firm that currently stands in the stunning area of Los Suenos, El Salvador. The firm also created this home for one of their eco-conscious clients.
The multiple decks design of this lovely resistance is done in such a way that helps to connect with other parts of the home as well. Every room was designed to inevitably provide amazing panoramic views to its residents. To give you a perfect example of this, the living room is arranged in a way that allows it to be linked to all the other rooms, transform into a patio, and give a front row seat of San Salvador's mountains and vast ocean view. As we walk back outside to marvel at the exterior of the house again, you will notice that even the roof was designed to provide extra comfort as well! The peculiar shape of the roof on this multiple decks home reminds us of a piece of delicate paper in the process of being made into an exquisite origami masterpiece. This "origami" design is folded in a way that protects its residents from the glaring sun.
A multiple decks home is definitely a first for us! We just love when things that didn't seem possible become a reality with just a little teamwork. What a trend this could start!