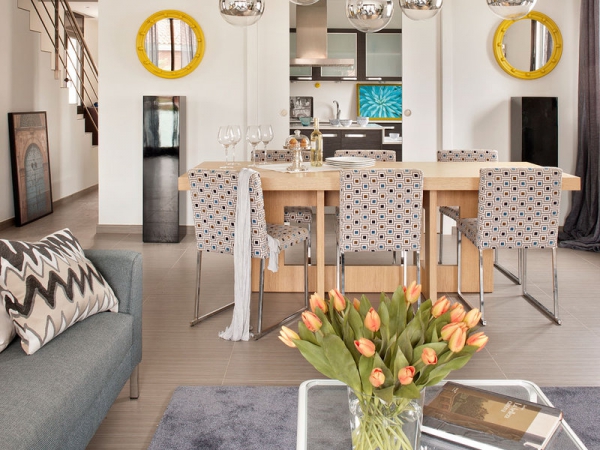 Take a look at this beautiful holiday home, found in Tarragona, Spain. With its totally modern design and super fresh interior, this is a home you'd probably want to stay in year-round. Of course, since we are talking about Spain we suppose you could have a holiday vacation there at just about any time of the year.
The gray tones that are used throughout the home create a very stylish look but are neutral enough that you can still relax surrounded by it. The additional patters, pops of yellow, and accenting black round out the palette seen in the living areas very nicely, creating this fresh interior we're so very fond of.
We really like the design of the bedrooms; rather than stick entirely to the colors used in the living areas additional hues of eggplant and navy look excellent with the gray. These colors also help create a much more inviting atmosphere—certainly looks comfy to sleep in, doesn't it?
The large windows create excellent opportunity for taking advantage of the lovely sunlight that spills through. The natural light and the ability to create the perfect breeze in the summertime are reason enough to have windows of that caliber.
Тext is copyright to ©Adorable Home – interior design and decorating ideas