This intricately designed modern forest house sits in Cachagua, Chile.  Designed by Gubbins Arquitectos in 2003, the Omnibus House was constructed with mainly concrete. The vacation home's rectangular shape, fits in nicely with the forested area, and provides the base for its creative design. The outside is landscaped to perfection, with a smart pop of color. Floor to ceiling windows cover the front and back of the house, bathing the living areas in natural sunlight. The sides have slender windows, adding privacy, to this otherwise open home.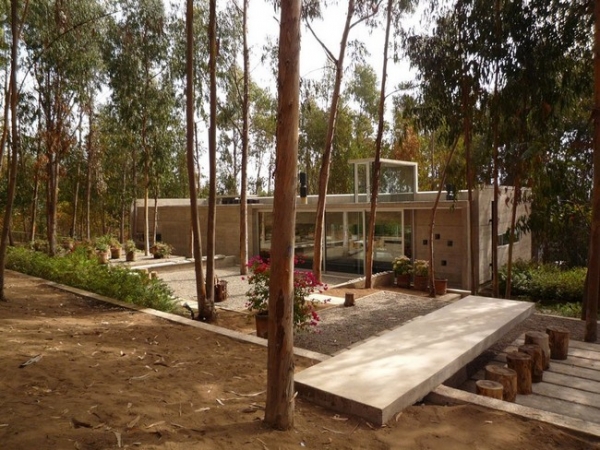 There is a circular experience, to this forest house. The walkway surrounds the living areas, and the staircase is situated right at the walkway, leading to every space in this fantastically designed home. It is a complete flow through, linking all areas to the outside and to each other.
The concrete staircase almost symmetrically splits the forest house. On the main floor, there is a minimally designed living room with a concrete fireplace and a dining room, separated by the dividing staircase. The light browns, grays, and whites are cohesive and have a calming effect on the space. All of the colors used in this forest house are natural, blending with the forest encircling the home. The stairs lead up to a glass enclosure, reminiscent of a periscope on a submarine. This unique enclosure opens to the rooftop, a wonderful place to take in the sun and relax.
The bottom floor cozies into the ground, almost unseen. This level is full of bedrooms, situated next to each other, almost simulating an upscale camping experience. The square cutouts in the bedrooms provide warm lighting, and a place for storage.The natural colors continue throughout the bottom floor, unifying it with the rest of the house and the outside area.
Circulation is a running theme in the Omnibus House. Continuous flow and movement insinuates and implements ease through every space, removing blockage from the vacation home, and hopefully, vacation time.