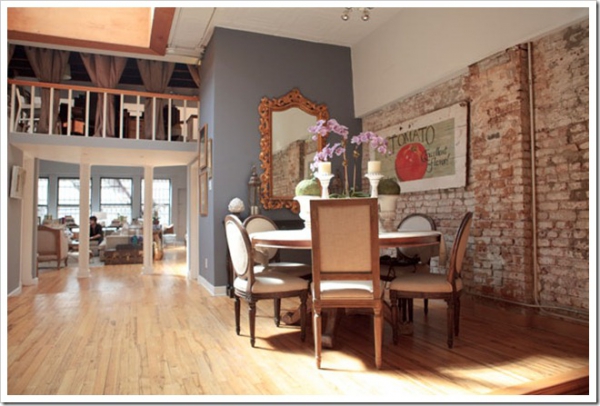 Are you a city dweller looking for a place to call your own? Or maybe you just want to update your current interior just a tad? Either way, you're in good hands now! This stylish apartment, located in New York in the United States, was designed by the infamous Christian Siriano and his boyfriend, Brad Walsh. Siriano was known as one of the biggest successes to come off of American fashion reality show, Project Runway, and has went on to make his mark in the fashion world with notable celebrities and the like. His sense of chic and savvy style has definitely made its way into the interior design of his place that is simply breath-taking.
This stylish apartment really features an antique vibe that makes a huge statement in every room and corner. The dining room area gives us a Victorian feel with the historic table and chair set along with a majestic looking mirror behind it. You can get a taste of the sun whenever you want thanks to the mesmerizing skylights that are separate the dining room from the kitchen. The large living room adds a little more fun with vintage accent pillows, whimsical bird cages and another skylight that is the centerpiece which pulls it all together. Art is also incorporated in an exquisite way with the use of numerous books and a mini-gallery of masterpieces from around the world.
We bet you never initially believed that you could make a stylish apartment in the way you want with the budget you want. Creating the style of your own choosing is always important. Take your extravagant dreams to a whole new level!