Wow! Just wow. This fantastic New York apartment, originally a luxury artist's loft in the 1900's, is located on the Upper West Side of Manhattan.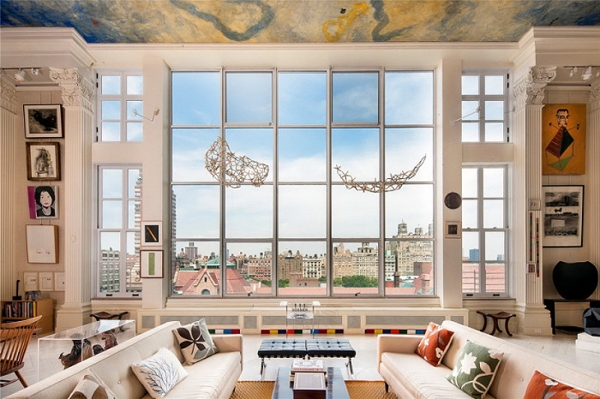 First, let's discuss the beautiful bones of this arresting apartment. The high ceilings are out of this world. The details in the walls are absolutely gorgeous. And the windows, wow, the windows are humongous, and fantastically stunning. The fireplace is a beautiful gray stone, and it's huge. It travels half the length of the apartment, from floor to ceiling. The floors are elegant and eye-pleasing light hardwoods, completing the fantastic inherent qualities of this wonderful home. An amazing New York apartment already, and we haven't even gotten to the decor yet.
The living area's decor is multi-faceted, and pulls from almost every design inspiration. A lovely wooden table is placed in the space, surrounded by matching chairs, and decorated with a black and white plate. There are two off-white sofas facing each other, by the fireplace, with a table in the middle. Two modern black stools sit on the side of the large windows. On the other side, two unique stools are placed, one orange and one black. Patterned pillows line the sofa, and a variety of lovely tables complete the space. There is so much beautiful color and design in this room, some modern, some ethnic, and some contemporary, and it all works.
Art and photographs fill almost every space in this impressive New York apartment, including the ceiling. The ceiling's mural is full of blues and oranges, bringing to mind the open sky, and almost creating your very own Sistine Chapel. Unique sculptures hang from the ceiling by the windows, adding more creativity and fun to this New York apartment.
Imagine yourself sitting on those comfy sofas, by the warm fire, looking out those large windows. Absolutely breathtaking.