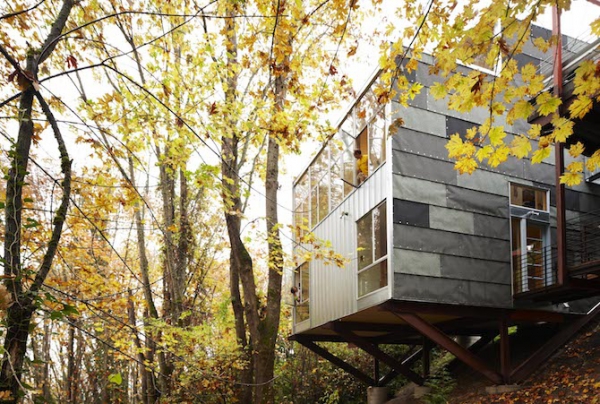 As children, we all had the childhood memory of wanting to have the best treehouse in our neighborhood. Going on the adventurous hunt to find everything we would need for our treehouse fort added to the excitement of having a secret hideout. Whether it became actualized or not, today's feature brings us a more modern look at how our dreams could have unfolded. This elevated home, located in the United States in Seattle, Washington, really takes us back down memory lane.
Treehouse was designed by SHED, a Seattle-based architectural design firm that specializes in challenging projects and effective solutions. And what a challenge this elevated home was! When the owners of Treehouse originally set out to find a proper foundation for it, they were surprised to discover that the land they chosen wasn't exactly the best fit. Nevertheless, they came to SHED for help and together they collaborated on the main goals needed to make this vision a reality that transcended any challenge. The result was a durable tree house that seeks to fully make the experience of living high in the treetops one that would create lasting family memories for years to come.
Even though this elevated home was no easy feat, SHED made it look as if it were as easy as baking a cake!