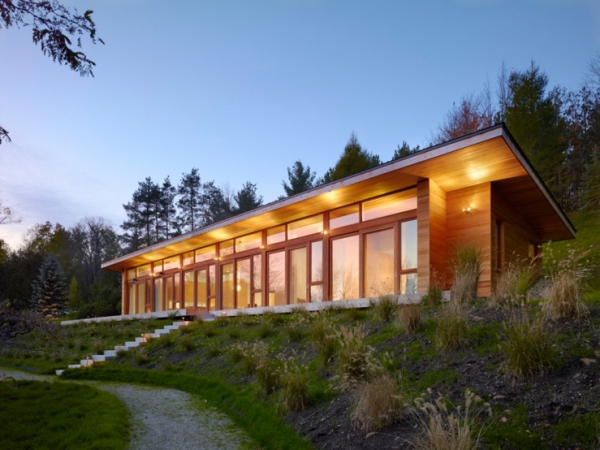 Have you always wanted a home that allowed you to enjoy nature at every angle of the house? Are you a lover of watching the seasons change with every changed leaf or soft breeze? We think that this home would be the perfect match! This environmentally responsible design is located in Mulmur, Ontario, Canada and is the work of the Superkul Inc Architect Company. The inspiration for the design of this home actually came from a request for a client that they received, who just happens to be very sensitive to changes in the atmosphere. Superkul delivered in a grand way that really protects from any allergies, yet still allows their client to enjoy the landscape from their home.
On the outside, this environmentally responsible design features a slender look. The front of the house facing the lake is illuminated by soft exterior lighting that highlights the wood finishing of the house in a beautiful way. A large open deck gives way to steps that invite you down to the lake for a nice afternoon. On the inside, we are welcomed with a neutral color scheme and minimalist décor that keeps it simple, yet immaculate.
For the things you can't see immediately, the infrastructure of this house also features an environmentally responsible design as well. The very foundation that it was built on prevents the accumulation of various fungi and nasty molds. Even the walls are made from a plaster that ensures that the client won't have to keep painting them! With a home like this, you are always promised a healthy life!