This amazing house design is engineered by the future-oriented architecture practice of D*Haus company. D*Dynamic is a house concept that moves with the seasons and the time of day.  The house follows the Haberdashers formula, which states that an equilateral triangle can be cut into four pieces to make a square. The outside of this dynamic house concept is extremely angular. It sits on circular tracks to aid in the movement, creating a sprightly combination of angles, triangles, and squares.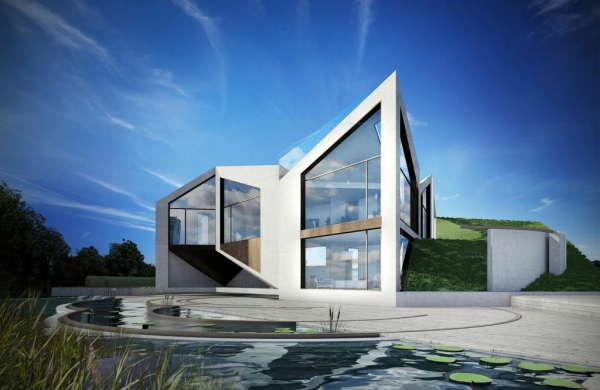 Beautiful glass fills the angled home, showering it with a large amount of natural light. The smooth light gray surface of the exterior is warmed by light brown accents, giving this dynamic house a touch of the present.
This amazing house design moves into different shapes and configurations, depending on the current season. In the winter it closes in, shielding itself and its occupants from the harsh climate. In the spring, it opens into an almost horizontal stance, adjusting to the more comfortable atmosphere. In the summer, it is fully open. In this position it almost looks like the house has turned itself inside out. Lastly, in the fall, the dynamic house begins to close back in on itself, preparing for winter.
The house can also move to different positions reflecting sunrise to sunset. There are eight available positions for this home. This makes it possible to watch the sunrise from the bedroom, or arrange the house perfectly to watch the sunset. It also makes it possible for someone to rearrange the home, for the best possible view, best possible sun, and optimal energy conservation.
One of the most interesting things about this amazing house design, is that the movement is inside the house. All parts of the house serve different purposes, according to the season, or time of day.
This dynamic house can't be called anything but innovative. It marries the constant movement of nature with design, allowing them to move in unison. The creative minds behind D*Haus have created a true architectural miracle and we can't wait to see more of them!