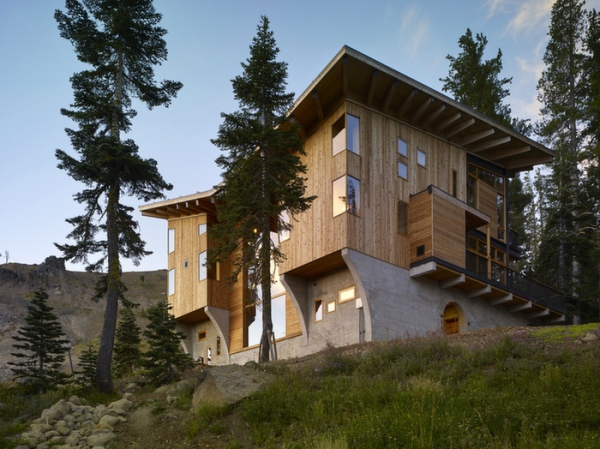 A symphony in bare tones of wood, the Crow's Nest is a spectacular haven among the snow capped delights of the Lake Tahoe region. Located in the popular Sugar Bowl Ski Resort in California, this modern wooden house offers 520 square meters of cozy living amid scenic surrounds and open landscapes. Designed by Mt.Lincoln Construction and BCV Architects, it is oriented to the outdoors, coexisting in tune with the moods and shades of the weather and land outside.
This modern wooden house is realized as a consolidated volume that spins itself around a vertical circulation core; every space and room is thereby afforded grand vistas and often spills over onto outdoor balconies or decks. The glazing is far more generous on the southern face to allow for maximum heat gain and the main living areas are lined up along it. Functional spaces such as the kitchen are tucked away to the back where careful punctures filter in light, ventilation and natural splendor.
The decor has an almost Scandinavian appeal with the grains, patterns and textures of wood articulating an aesthetic vocabulary. Dominating the visual and structural palette, its simplicity takes on a sinuous overtone through synchronized movements through the entire house. It is interspersed with concrete and stone walls that offer a smartly contrasted solidity to the design. Glazed facades and metal staircase bring delicate respite to the scheme adding lightness and play.
A sensory indulgence, this modern wooden house brings together design and experience to pamper and inspire along with nature.
Photos: Bruce Damonte