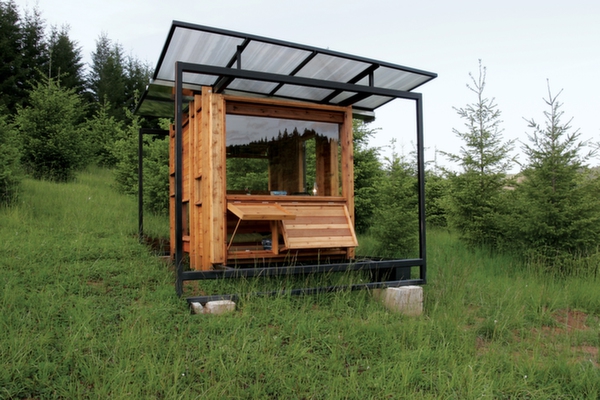 Taking human creativity off the grid, this quaint cabin is located in Wren, Oregon in the very lap of wilderness. Created as a writing retreat for Kathleen Dean Moore- a philosophy professor at Oregon University- the 'Watershed' is an honest yet intricate exchange between the natural and the man-made. Designed by her daughter-cum-architect, Erin, the 70 square foot cabin is far removed in setting and spirit to allow space for original thought.
A honing beacon amid endless pastures, this remote writing retreat is accessed via a pleasant stroll through a meadow. The Watershed is self-sufficient in its energy needs; it harvests rainwater which is collected in a cistern. This not only supplies water to the cabin but also attracts the attention of friendly deer in the area that see it as their watering hole.
Constructed in wood with metal framing, the cabin is smartly articulated, striking just the right balance between impressions and surrender. Crafted in silence, its interiors stick to the basics offering a comfortable abode that dwells in the authenticity of its experience.
A temple of solitude, the Watershed is a remarkable writing retreat; focused outwards in its architectural vocabulary, it offers a space for uninterrupted inner dialogue. Through conversations with nature it inspires and informs conversations with man.
Photos by Gary Tarlton