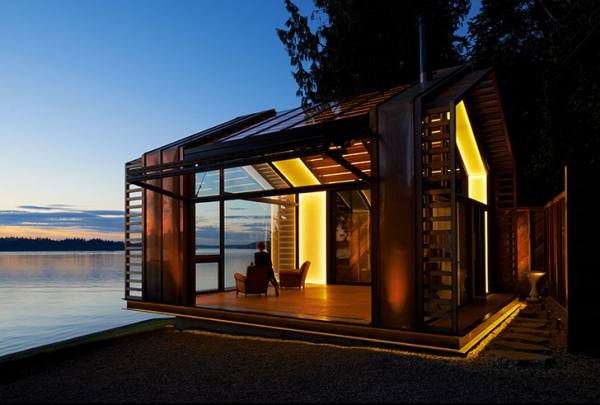 Designed by Graypants – a Seattle based company, this contemporary space is called "The Garage" and sits on the south easterly shore of Vashon island. Originally the building was an old wartime garage but now it is a tribute to glass, modern living and space. Gaze across the water and relax in the garage or spend quality time with friends and family in this unique location.
The Garage is a beautiful building, one that can be opened up to the elements but also can seem cozy and personal. With most of the building being glass, including the roof – this contemporary space is extremely unusual in design, light in feel and has the most amazing views from each part of the building.
This building has a multitude of uses, so has been left very sparsely furnished. There is an awesome shower on the outside of the garage and a wood burner inside. Also various storage units and facilities can be found inside the building. During the day the glass roof can have its timber louvers closed to keep out light and at night time you will find interactive LED panels create a warm glow that lights the garage well.
Photos: Amos Morgan