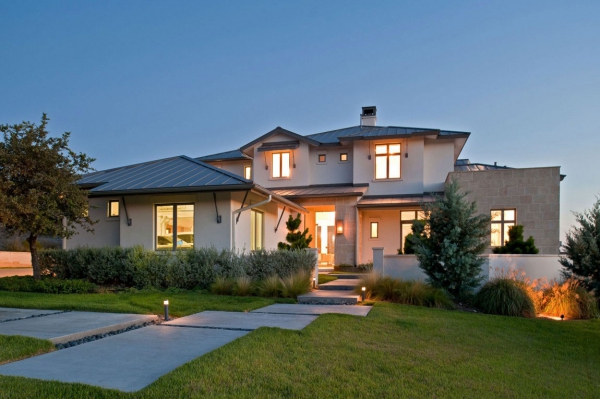 She's a little bit country! He's a little bit rock and roll! Sometimes you want a little serenity to walk into every day. For all you avid country-lovers out there, we're sure you'll really enjoy today's feature! As we take a trip to the USA, we stop in Austin, Texas to check out a contemporary house design that's bigger than life! Thanks to Cornerstone Architects, an Austin-based design firm that's known for being a little more edgy, the modern style featured in this home is just enough to still make you feel at home.
Known as the Spanish Oaks Residence, this house with contemporary interiors is beautifully illuminated inside and out. Being at the top of its rural landscape has its advantages, as it allows for an open space floor plan on the bottom floor that gives breathtaking views of its surroundings all the way around. The use of a gray and dark brown color palette in the living rooms, dining room and kitchen gives a striking contrast against the crisp white walls and marble accents. The bedrooms take a different turn, as they include more color play and modern texture. As we walk outside, we can see that there are more lounge areas that encourage you to relax by the pool.
Everyone wants a welcoming home!