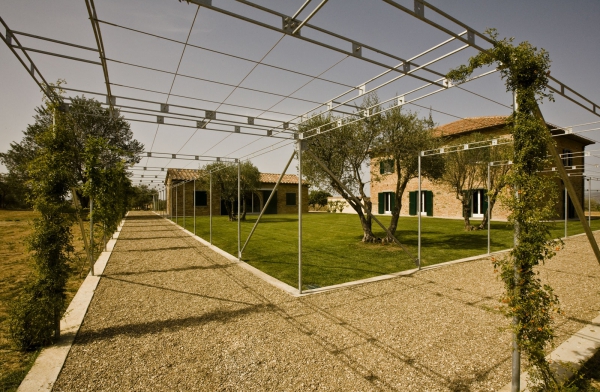 This period farmhouse in Tuscany has undergone renovation to become a wonderful contemporary farmhouse that is a comfortable and attractive home. From the exterior the farmhouse looks largely unchanged, but once you walk through the doors you can see just how much work has been done. The contemporary farmhouse has a generously sized central area with 10m high antique ceilings, which have the original bricks still visible. Other original features are the terracotta floor tiles that are in a traditional herringbone pattern.
The mix of old and new brings life to this contemporary farmhouse. A sweeping, curved modern staircase now adorns the hallway of the house where natural light is abundant. Period furniture and contemporary art can be seen in each room, giving the house a comfortable feel. This contemporary farmhouse has character and style; with many original features playing a large part in how each room functions. Everything from the modern stainless steel kitchen to the colorful rugs on the floors has been carefully selected to enhance the house.
Outside a lightweight, metal pergola has been added to the garden separating the olive groves from a manicured lawn area. The Tuscan scenery provides a wonderful backdrop for the contemporary farmhouse that seems to soak up the sunshine.