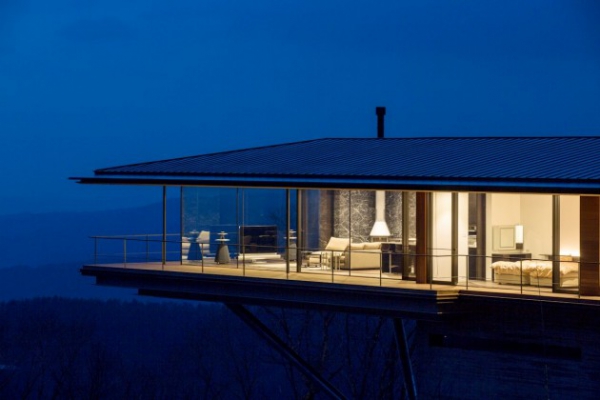 Placed upon the edge of the Yatsugatake Mountains in Nagano, Japan, this home exudes what contemporary architecture looks like today. A simple rectangular shape perched high above the city lights, overlooking the mountains as they swoop down toward it, this home seems to have been built to appreciate its surroundings (and the way it seems to float, perhaps make the home apart of its surroundings as well). Kidosaki Architects Studio pulled no stops in providing stellar views from all turns and corners of this home.
The home is truly luxurious, and you can still really appreciate the contemporary architecture from inside the home. With panoramic views encompassing all walls, simple hardwood floors, and stone accents, this is a picturesque look at a rather perfect modern home. Even more, the interior design and furniture are very simple, allowing for you to focus on what surrounds the home, rather than what is in it.
Having a home this size balanced on a beam much smaller requires some rather intense planning, but how rewarding it must be to feel like you're floating above the trees at all times. The home truly is harmonious with its surroundings; while it is entirely contemporary, it is still very unassuming.
Photos: Junji Kojima
Text is copyright to ©Adorable Home – interior design and decorating ideas