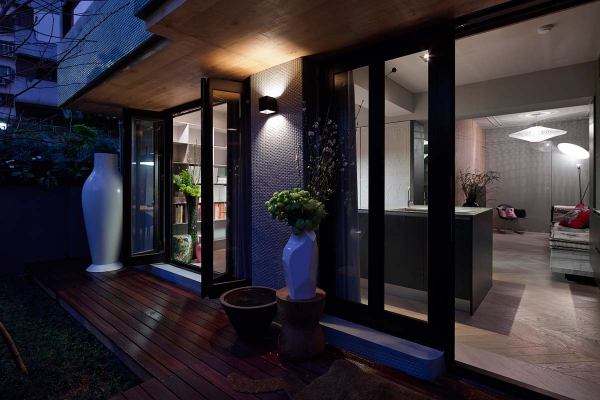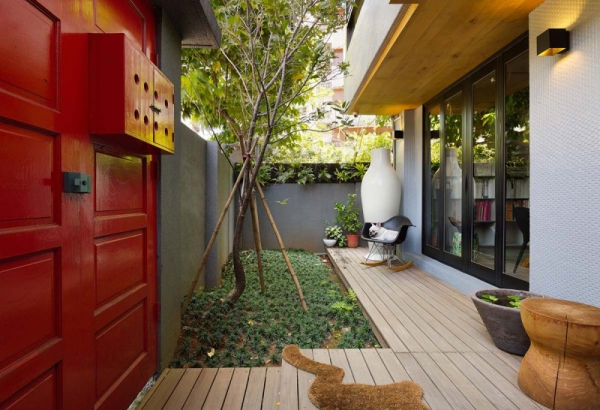 Set in a historical Taipei neighborhood, this 53 square meter compact home and office maximizes the use of space and light through clever partitioning. Resident designers Ganna Studio maintain the structure and historical elements of the building, reinterpreting its interiors with contemporary flair.
Light partitions create a dynamic space that adapts to the function at hand. The core volume- living, dining and office- thereby shares ample light and visual connect, opening up the otherwise constrained dimensions. Full height glazing on the exteriors further accentuates this lightness. A pivoted partition wall with traditional molding and painted finish segregates the dining area (which doubles up as a meeting room) from the office. It is painted a formal grey on the office side and a serene white on the other.
The private areas occupy the back of this compact home. The bedroom opens up via a folded partition while the bathroom is cleverly concealed behind a seamless, white panel wall in the living area. Storage is distributed along the external faces keeping the interiors free and unobstructed. A restrained palette of whites and greys, explored to the hilt in various materials, reinforces this openness, creating visual foci with a dash of color through object and art.
Adept at effortlessly meeting its functional, privacy and aesthetic demands, this compact home and office breaks free of the limitations set by size and context. Ganna Studio breathes a modern dialect into the design, striking a delicate balance between tradition and invention.
Photography: MWphotonic