When you can not build out you build up. This tower takes the cake with that notion. We have seen the rise in popularity of a city within a city, where all your daily needs are within walking distance of your home. Well, UNStudio, a design studio specializing in architecture, urban development and infrastructural projects, has taken this notion to the next level with their amazing architectural feat called Scotts Tower. This skyscraper, planned to be build in Singapore, is a self contained city. The designers have incorporated space for  homes of all types and sizes combined with green areas all in one building.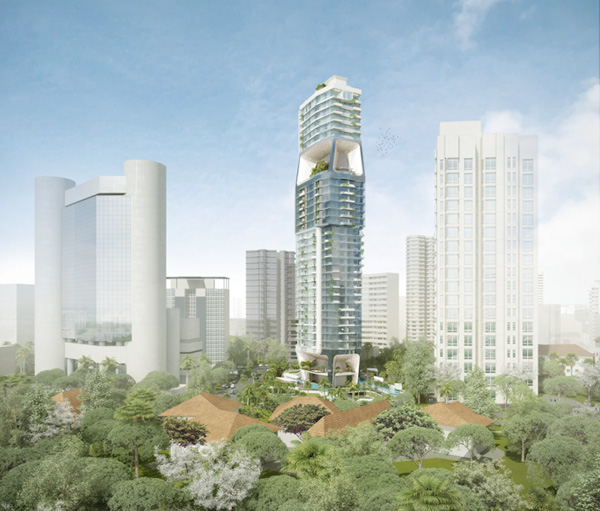 The 18,500m², 31-storey, 231-unit tower consists of four residential areas clustered into neighborhoods.The homes in each cluster have their own style and identity. You are able to choose between 128 city lofts, 80 city view units, 20 park view units and 3 penthouse residences. Every neighborhood has access to it's own green space complete with sky terraces and pavilions. And if you get tired of your "neighborhood" there is a whole recreational area with BBQ pavilion, wellness pool, children's area, and massage and gym pavilions on the main lower level. The lower level opens to the rest of the surrounding city joining the residents of Scotts Tower to the outside world.
This unique design is definitely one of a kind. Scotts Tower will be the next best thing on the architectural scene that promises to leave us speechless. The project is truly ambitious and matches UNStudio's innovative style completely. Amazing architecture as this one makes people push the boundaries further and create out-of-this-world designs.