Designed by well-heeled architects Bjorn and Marianne Aaro, this grandiose, sophisticated Stockholm apartment space is truly a work of art. Besides being architecturally exquisite (with its spacious 7 rooms located on 2 stories, large winding staircase, floor-length windows and gorgeous wood furnishings), the apartment interior design is truly lovely, as well. It simply doesn't get much more chic or charming than this apartment. And of course, thanks to its wide expanse and expert usage of space, spatial claustrophobia shouldn't be a worry for anyone!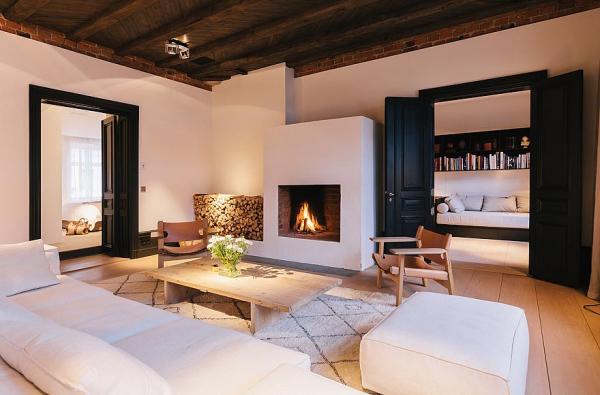 The floors of the apartment are both tiled and wood, with beautifully textured rugs artfully placed in most rooms. Apartment décor ideas are clearly focused on providing a general ambience of the utmost in class and sophistication – you'll find no cutesy knickknacks or juvenile decorations here. It's truly an adult living space, with an energy that borders on the straighter side of masculinity, with its heavy wood tables and chairs, sparse design, and general lack of pretense.
That isn't to say, of course, that the décor lacks in any way – rather, this wide-open space truly benefits from employing such an elegantly stark aesthetic. Each room is made to feel even bigger than it is, even more spacious and clean. Giant bookshelves cover the wall of one room, while lovingly potted plants are placed on various surfaces throughout the space, giving off a very homey, lived-in vibe. A feeling of coziness permeates throughout the apartment  – lovely golden light filters through every nook and cranny, thanks to both the natural light, as well as artificial lighting provided by the dozens of lamps and skylights that abound. The attic, in particular, is warm and inviting – every area feels infused with light and coziness.
The apartment's whitewashed, wooden color scheme further accentuates the attractive furnishings and design, rendering this living space both sophisticated and yet infinitely approachable.  This is the picture of true chicness in apartment design.