This bohemian home is in Sweden and it belongs to designer, Lisa Marie Andersson. It is wonderfully charming with its vintage touches, fabulous origami, and beautiful décor. The design choices and décor items in this house create a delightfully lived in design with an outstanding amount of personality.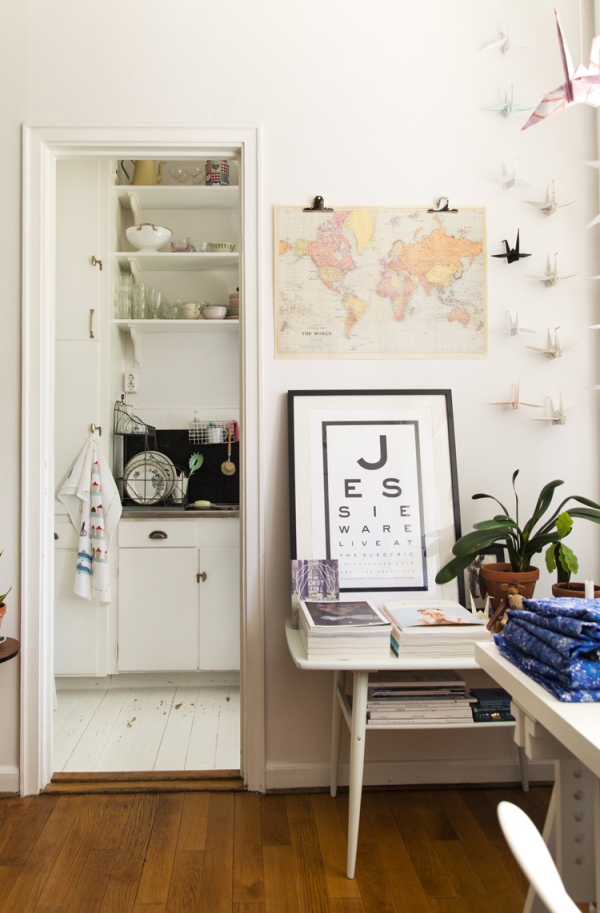 The hardwoods are gorgeous in this bohemian home, and they look particularly amazing with the bright white color palette. White furniture is adorned with fabulous greenery, fantastic posters, and stacks of magazines. The maps and origami are enchanting touches.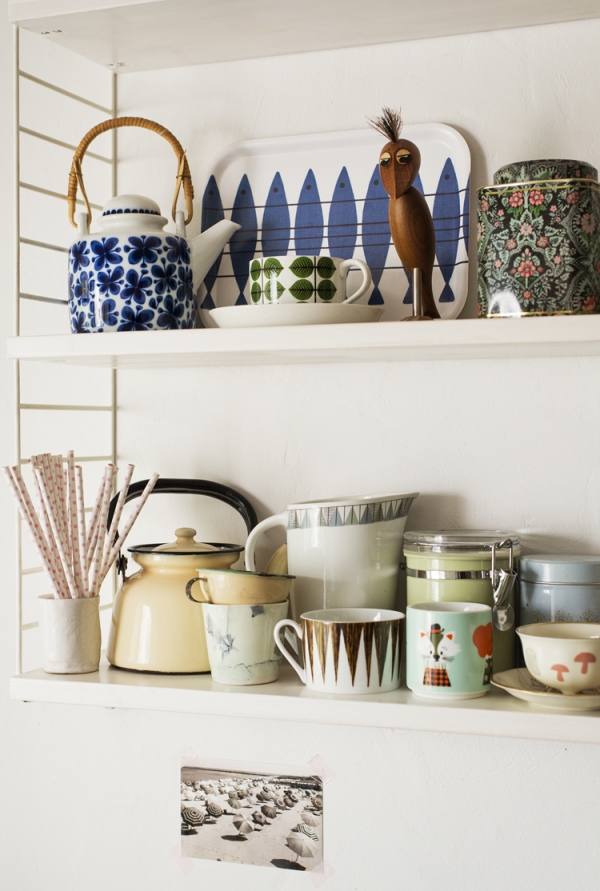 Fabulous dishes, teapots, and containers line the white shelving. We adore the bold blue in the design of the tray and the teapot. The wooden bird is also lovely.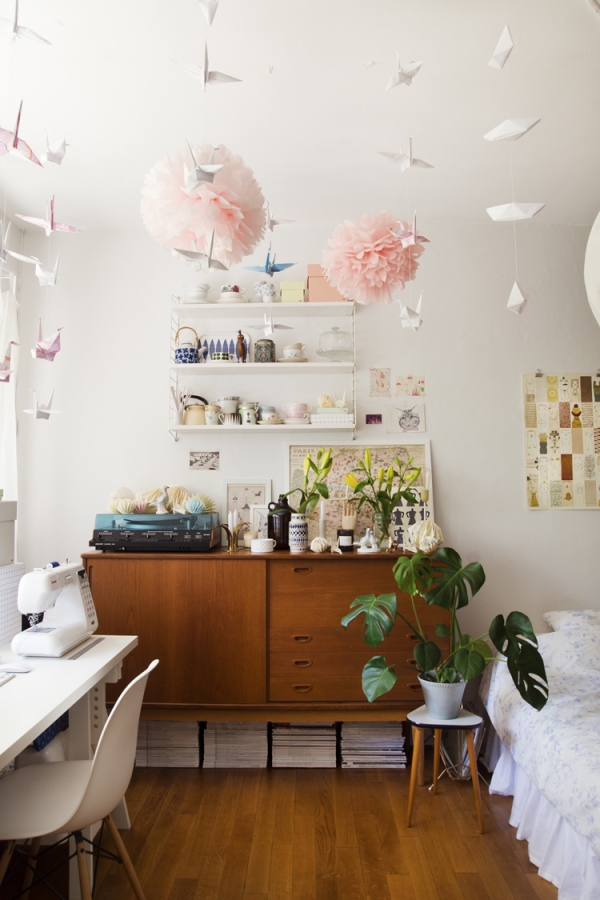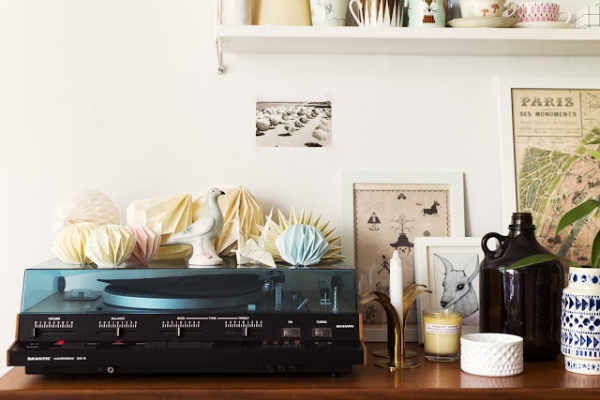 This bohemian home has such a wonderful adorable factor. Origami and pink fluffy décor hangs from the ceiling, adding a wonderful dose of playfulness to this magnificent room. A warm wooden console sits against the wall, perfectly matching the hardwood floors. On top of the console, a record player adds a marvelous vintage feel, vases and yellow flowers add beautiful color, and maps and doodads add exciting interest. Off to the side, a white, black, and wooden table, provides a place for gorgeous greenery. Completing the space, a white desk and a modern white chair, make for a bright and cheery workspace.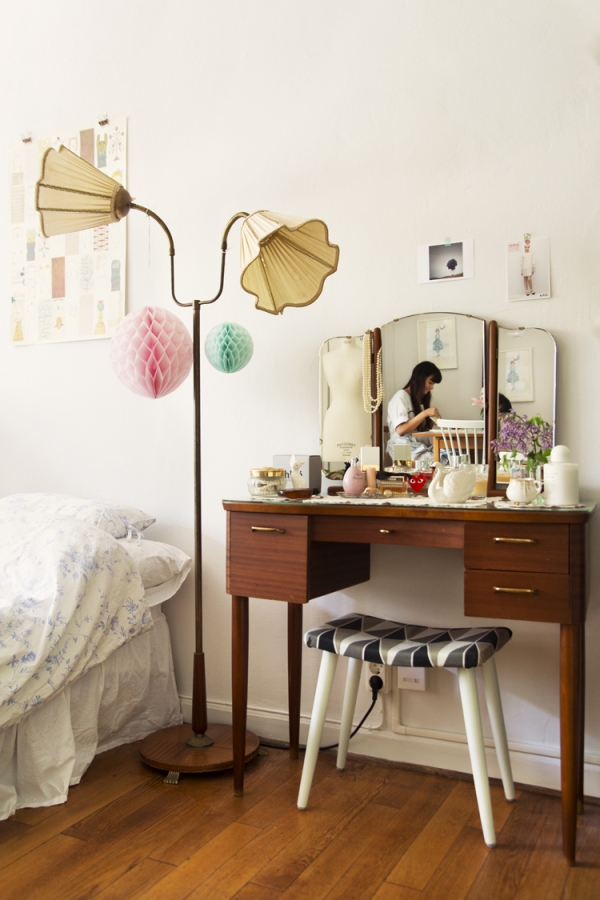 The lamp in this area is absolutely amazing, it reminds us of a gramophone. There is a wooden vintage dressing table and an outstanding stool with a fabulous geometric pattern.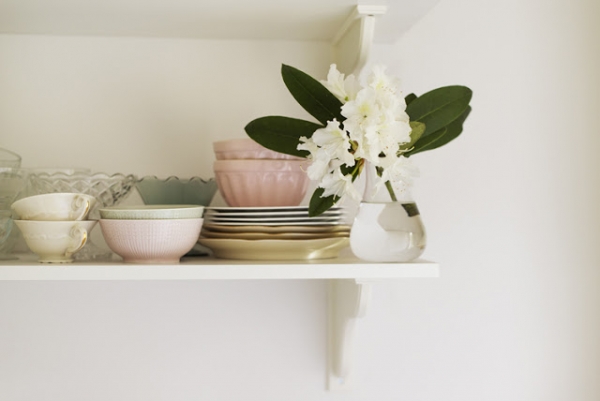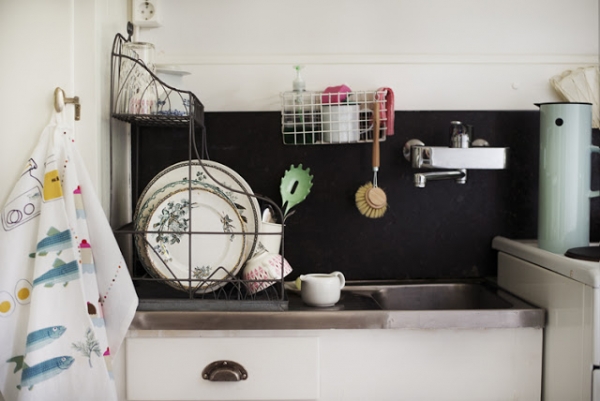 The kitchen in this bohemian home continues the adorable factor with white cabinets, vintage knobs, and a beautiful dish rack. Stainless steel countertops provide an easy to clean cooking space, and open shelving provides a significant amount of storage. We love the worn painted hardwoods, adding even more coziness to this superb home.