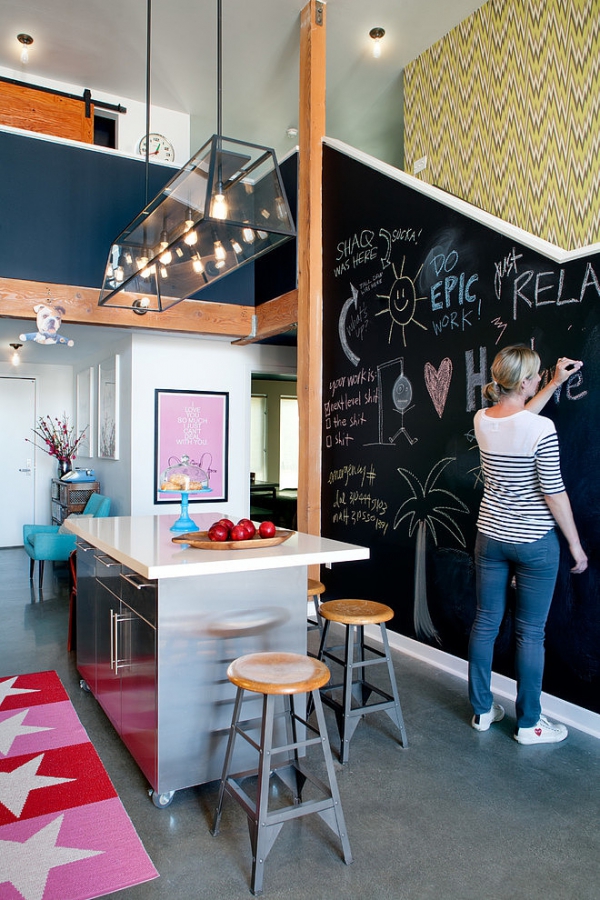 California is the location of this beautiful loft design by Daleet Spector Design. It has a gorgeous color palette and a fantastic playful quality.
The ceiling light in this area is simply stunning. It runs the length of the island creating a wonderful symmetry, and the floor to ceiling wood beam is lovely. The island in this space is gray with a white countertop, and it has wheels, allowing it to be moved at a moments notice. We love the island hardware, it adds a sleek touch to this charming space. Surrounding the island, gray and white stools provide seating, and in front of the island, a red and pink area rug adds a dose of bright color. The chalkboard wall wonderfully contrasts the white in the space and brings more playfulness to this loft design.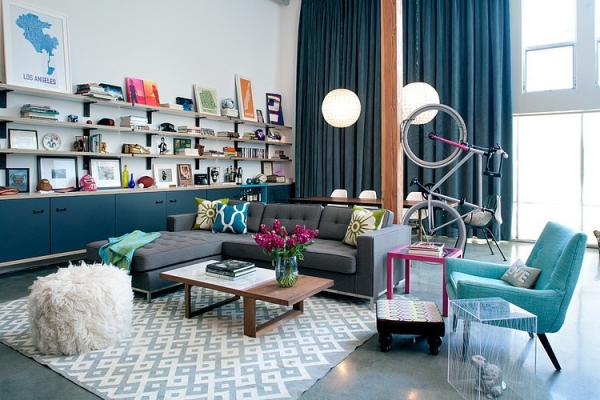 This design is just delightful, and we love the various blues. The wood beam highlights the high ceilings and the open space, and adds a touch of warmth. A blue and white rug fills the floor in the living area, bringing a magnificent pattern to the lovely interior. Shelving and cabinets line the wall providing a huge amount of storage and adding interest to the room. On the rug, a wooden table is filled with stunning purple flowers and a couple of books. A gray L-shaped sofa and a blue chair provide seating. The blue chair is paired with an outstanding ottoman and a unique side table. The sofa is complemented by a brightly colored side table and alluring pops of green and blue: simply radiant. The white poof is just perfect, adding a little texture to this brilliant loft design.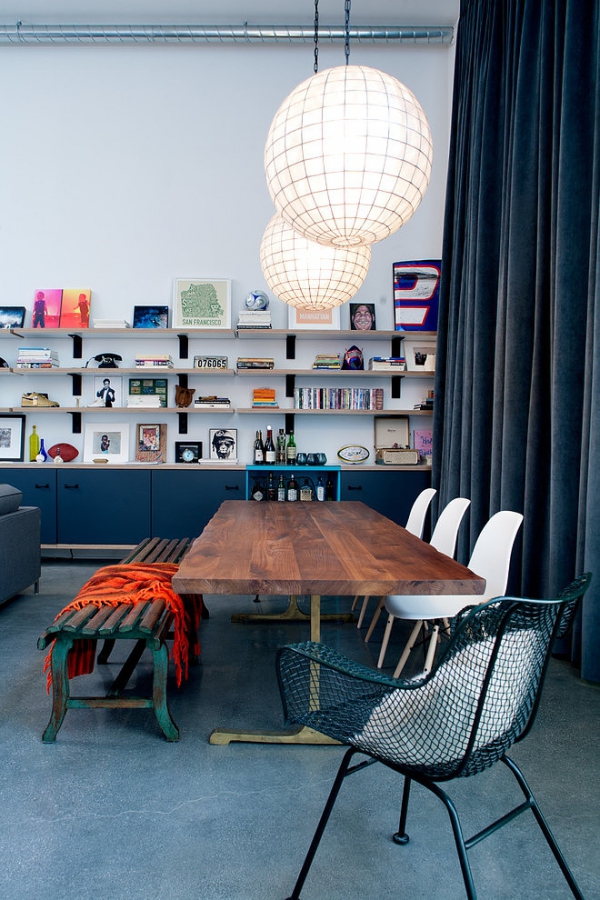 In the dining room of this loft design, a stunning wooden table is surrounded by an awesome wooden bench and modern white chairs. A dark chair with a wonderful pattern sits at one end of the table, and two circular lights illuminate the gorgeous space. We love the dark teal curtains, they add a certain lusciousness to this exceptional design.